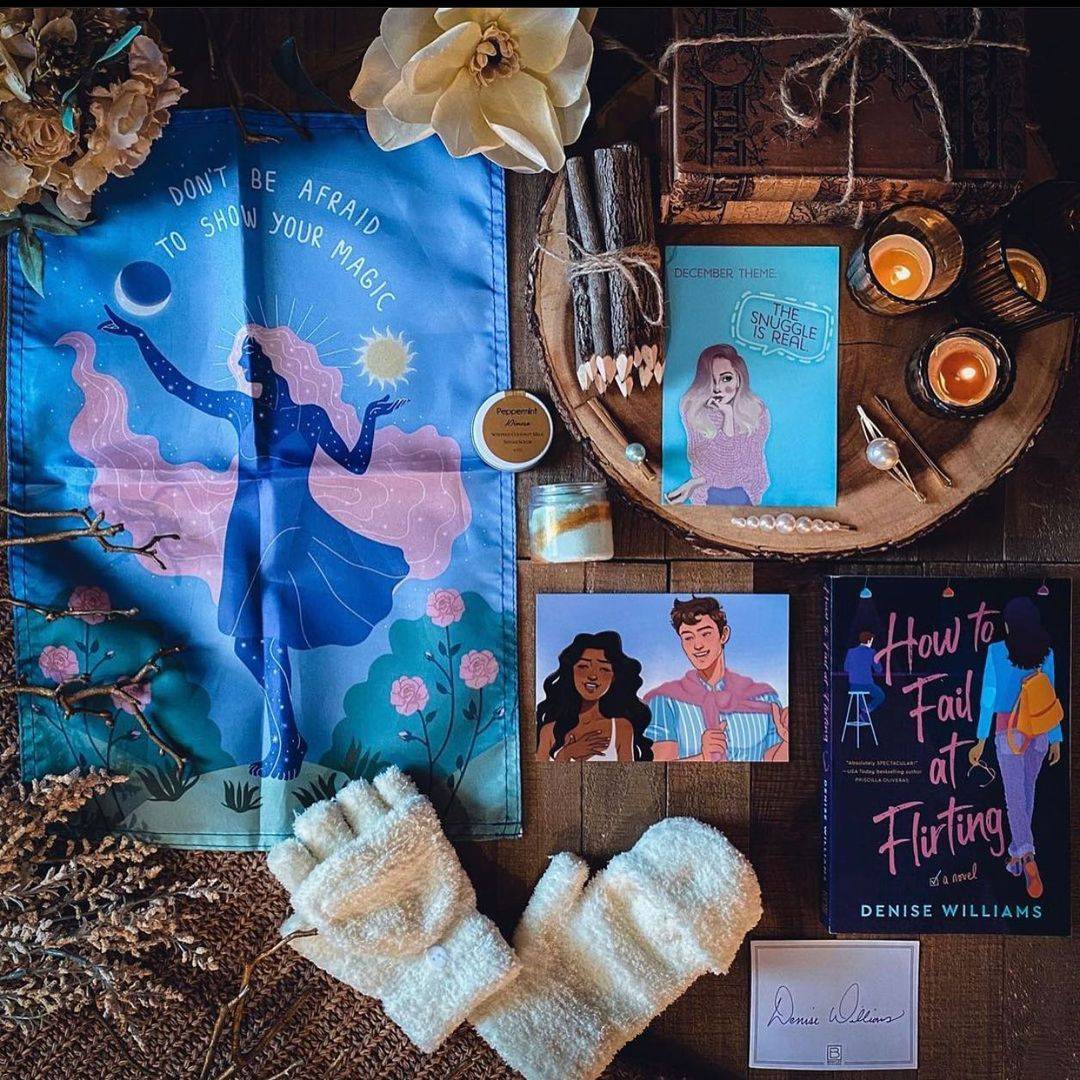 The Snuggle Is Real - December 2020
- How to Fail at Flirting by Denise Williams
with signed bookplates and author letter
- Couple art by @_bearbones
- Barrette Set
- Peppermint Mimosa Whipped Scrub by Tubtonics
- Cozy Fingerless Mittens
- "Show Your Magic" Wall Hanging by
-Image by @bookmarks_and_teacups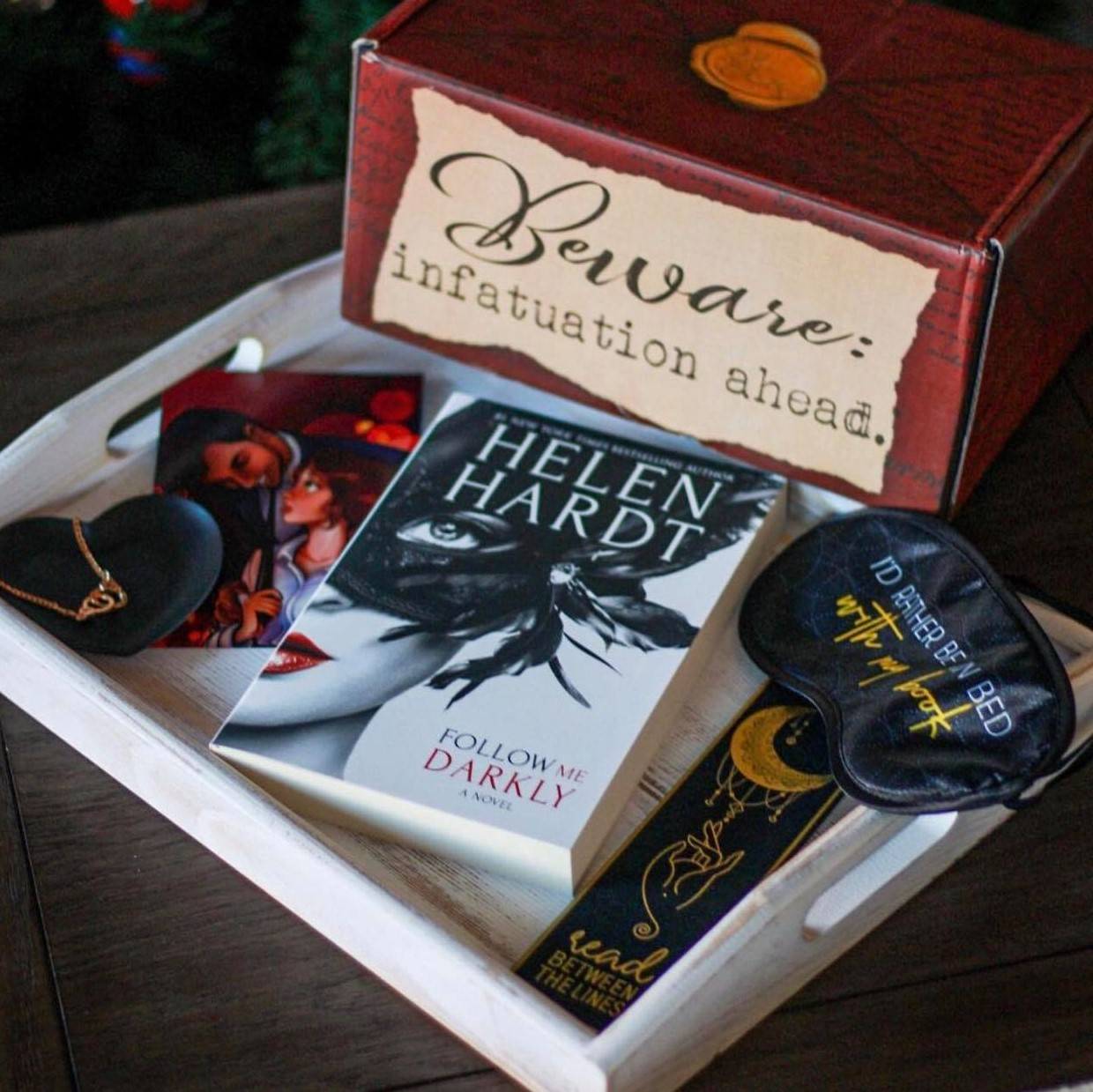 After Hours - November 2020
- Follow Me Darkly by Helen Hardt
with signed bookplates and author letter
- Couple art by @rolins
- Handcuff Bracelet
- Read Between the Lines Felt Bookmark
- Black Heart Jewelry Tray
- I'd Rather Be In Bed Sleep Mask
- Skull Silicone Ice Tray
-Image by @chroniclesofkayy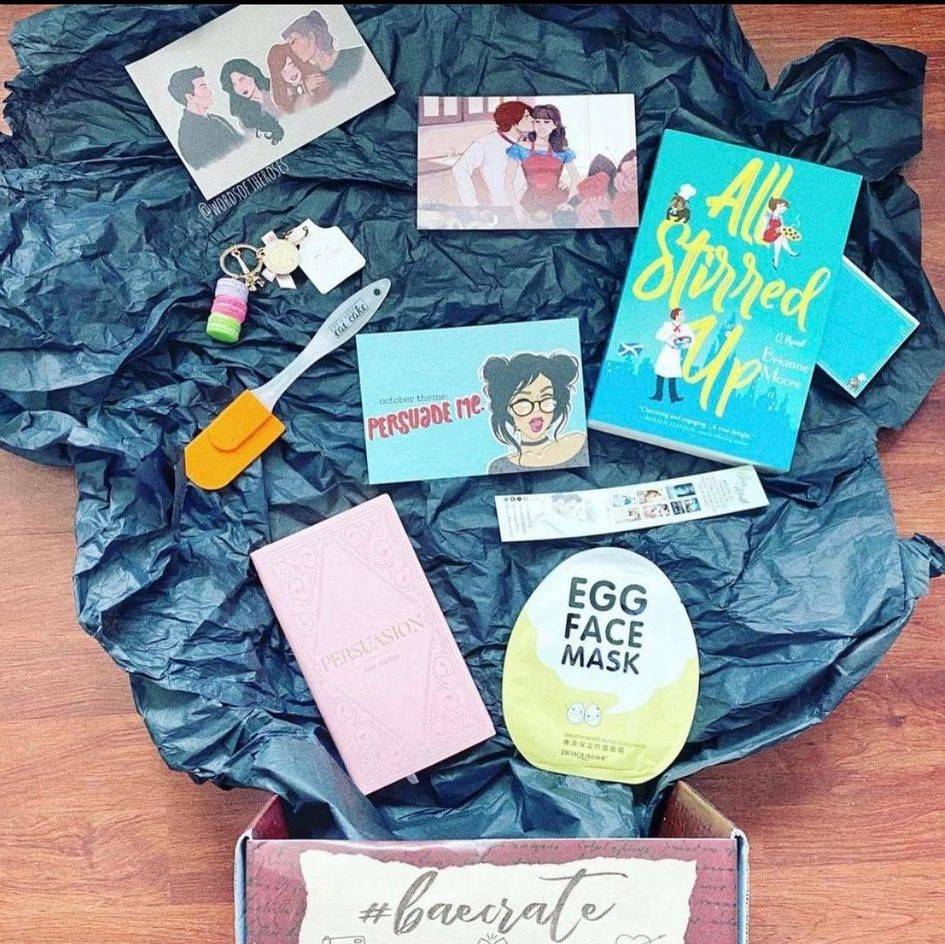 Persuade Me - October 2020
- All Stirred Up by Brianne Moore
with signed bookplates and author letter
- Couple art by @elionhardt
- Macaron Keychain
- Egg Face Mask
- Eat Cake Spatula
- Exclusive Pocket Edition of Persuasion by Jane Austen
-Image by @wordsoftheroses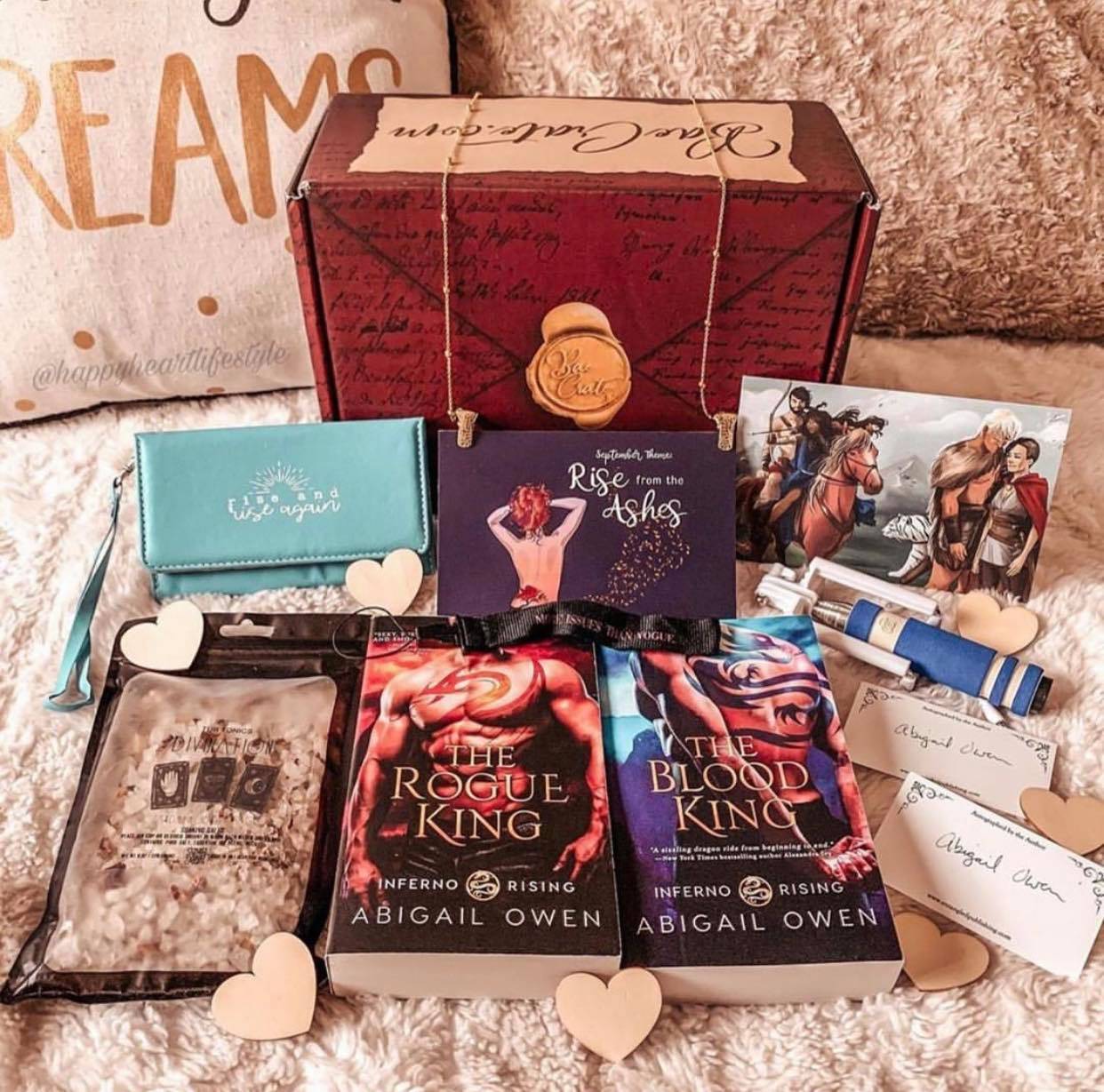 Rise from the Ashes - September 2020
- The Rogue King & The Blood King by Abigail Owen with signed bookplates and author letter
- Couple art by @marssketch
- More Issues Than Vogue Selfie Stick
- Mask Lanyard
- Rise and Rise Again Wristlet
- Divination Bath Soak by Tubtonics
-Image by @happyheartslifestyle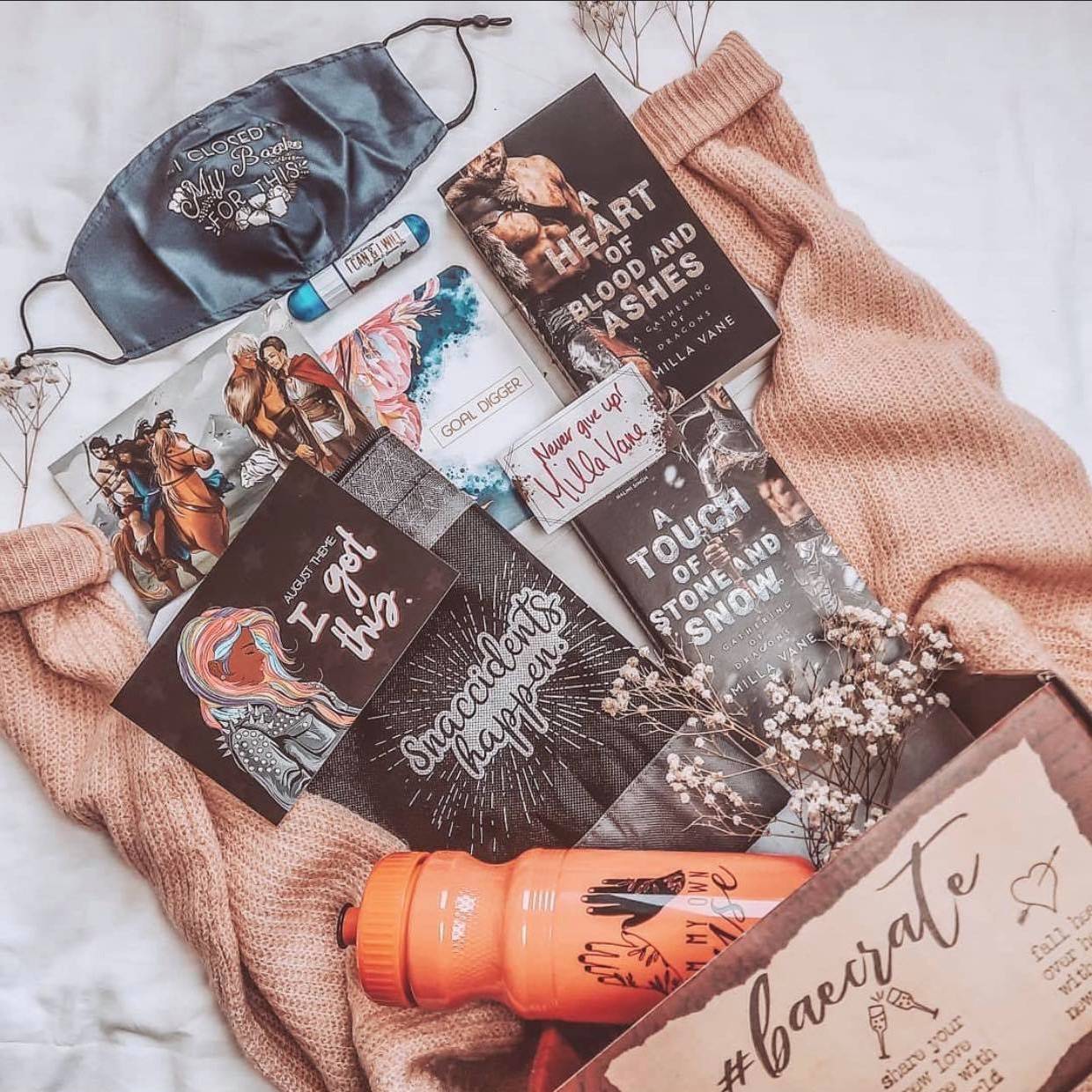 I Got This. - August 2020
- A Heart of Blood and Ashes & A Touch of Stone and Sorrow by Milla Vane with signed bookplates and author letter
- Couple art by @michelacacciatore
- I Can & I Will Chapstick/Sunscreen Duo Stick
- I Closed My Book For This Face Mask
- Goal Digger Notebook
- I Am My Own Muse Water Bottle
- Snaccidents Happen Cooler Tote
-Image by @readinginpyjamas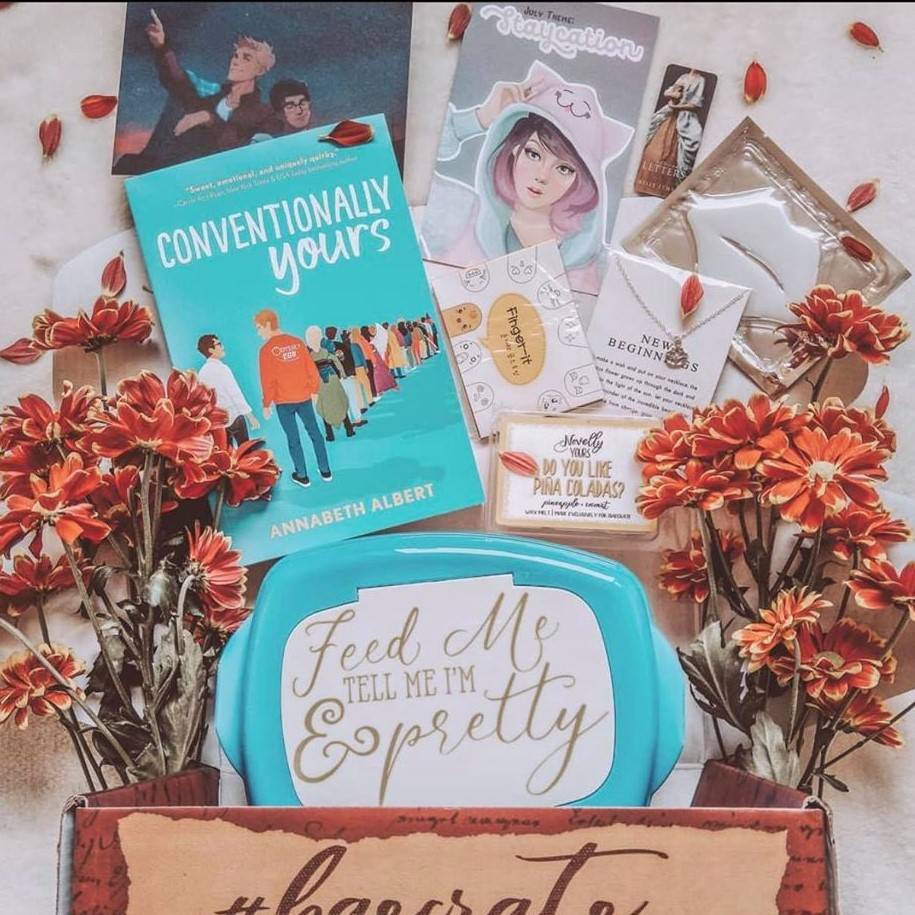 - Conventionally Yours by Annabeth Albert with signed bookplates and author letter
- Couple art by @elionhardt
- Reading Tabs
- Lip Masks
- New Beginnings Necklace
- Pina Colada Wax Melts by Novelly Yours
- Lunch Bo
-Image by @readinginpyjamas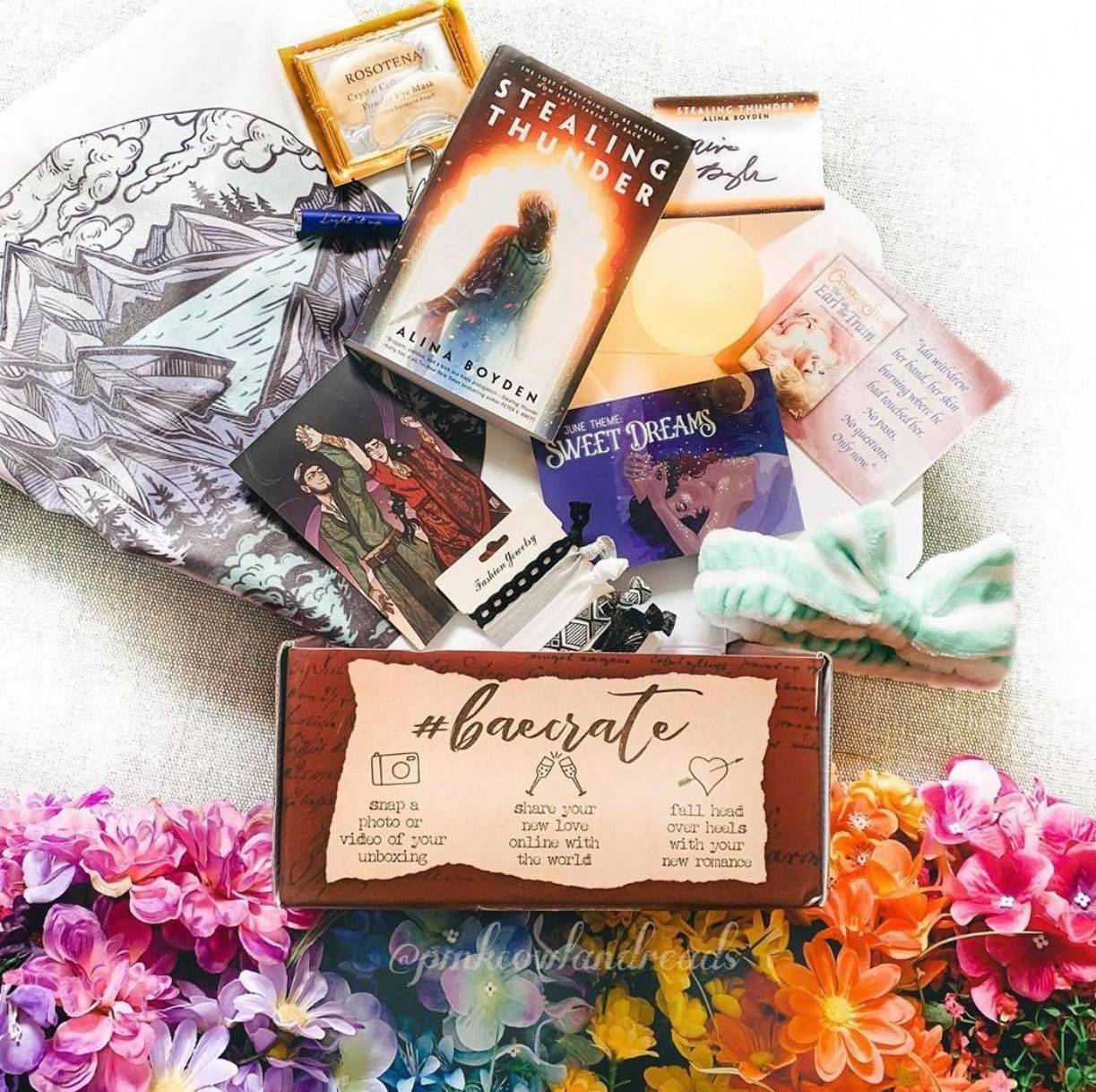 - Stealing Thunder by Alina Boyden with signed bookplates and author letter
- Couple art by @roitssomething
- Collagen Eye Masks
- Hair Band Set
- Key Light
- Face Wash Headband
- Mini Moon Lamp
- Happy Place Throw Pillow Cover
-Image by @pinkcowlandreads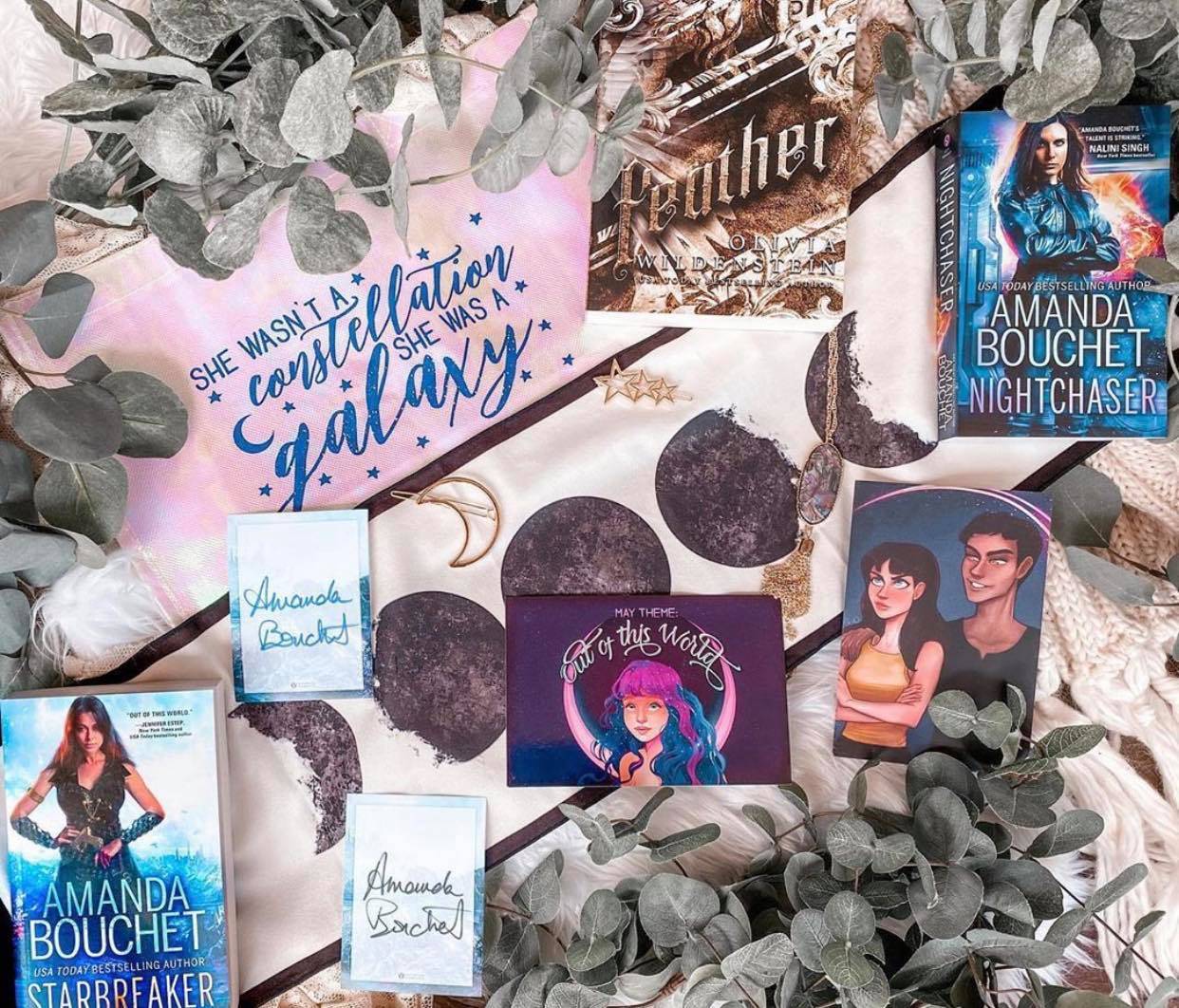 Out of this World - May2020
- Nightchaser & Starbreaker by Amanda Bouchet with signed bookplates and author letter
- Couple art by @rolins
- Feather paperback by Olivia Wildenstein
- Pendant Necklace
- Hairpin Set
- Skinny Tumbler
- Moon Phase Banner
-Image by @bookmarks_and_teacups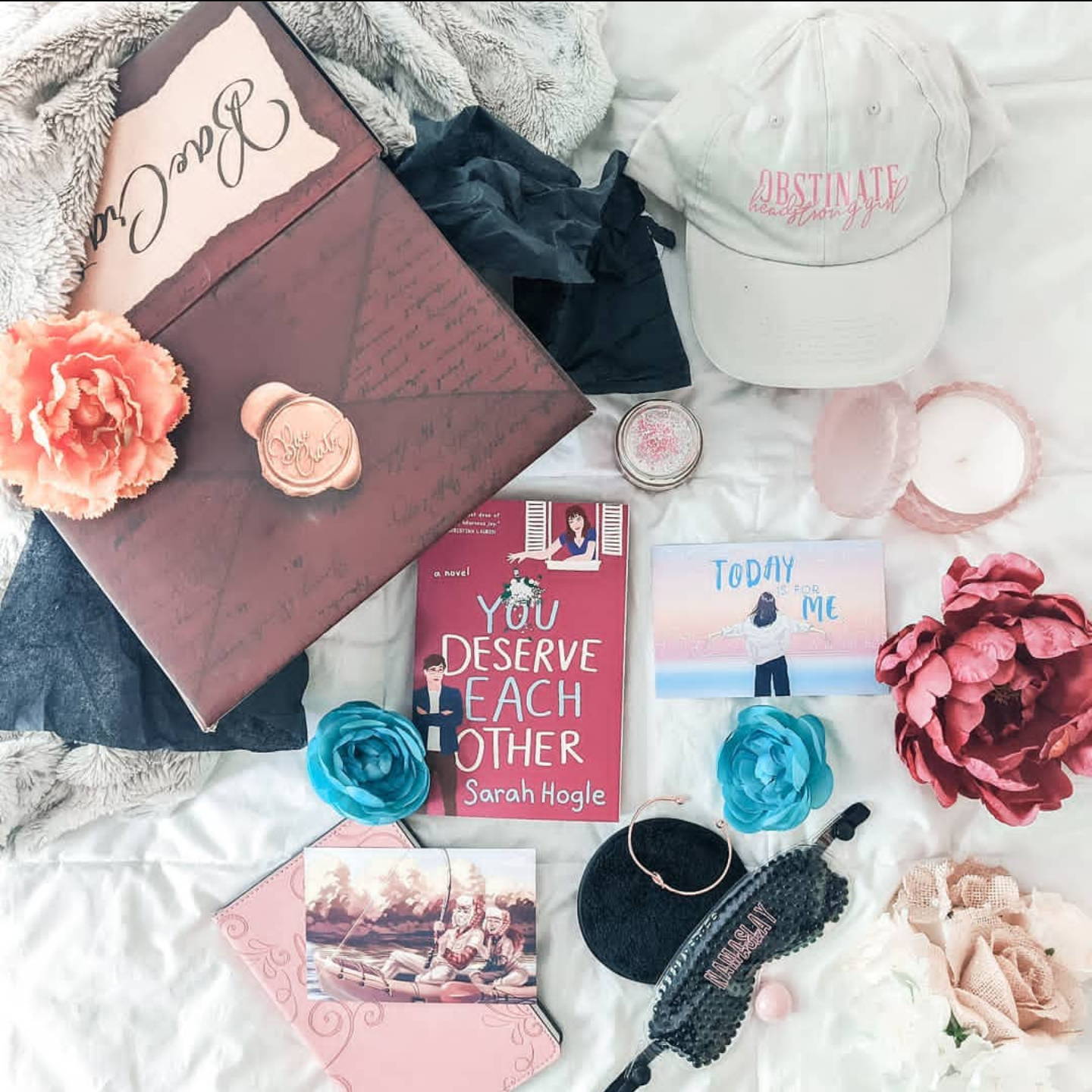 Today is for Me - April 2020
- You Deserve Each Other by Sarah Hogle with signed bookplate and author letter
- Couple art by @kyri45
- Bath Bomb
- Namaslay Eye Mask
- Makeup Remover Puff
- Knot Bracelet
- Pride & Prejudice Cap
-Image by @bookandablanket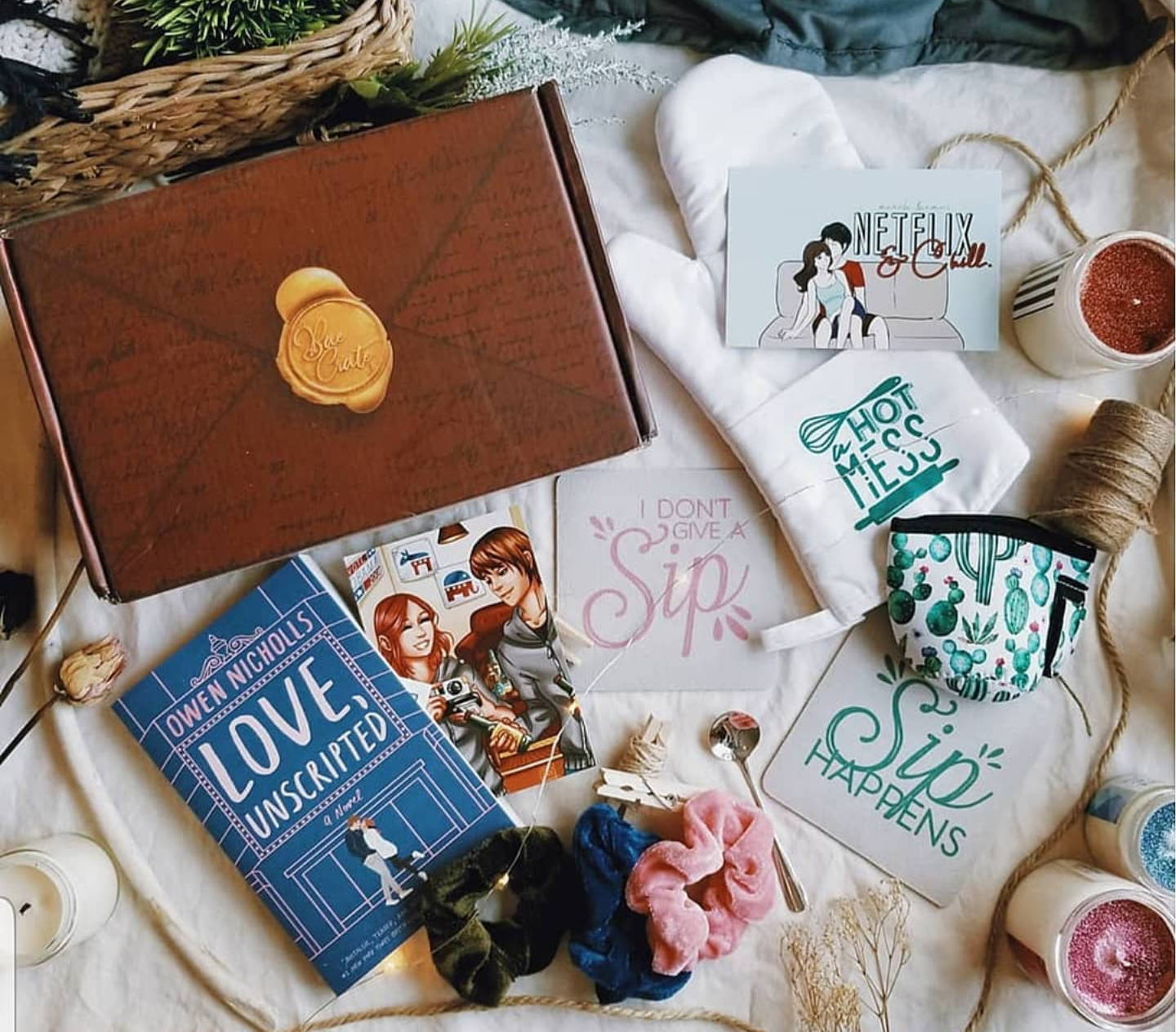 Netflix & Chill - March 2020
- Love, Unscripted by Owen Nicholls with signed bookplate and author letter
- Couple art by @lemoncielart
- Ice Cream Koozie
- "Dibs" Engraved Spoon
- "Hot Mess" Oven Mitt
- Velvet Scrunchies
- Coaster Set
-Image by @shelfrated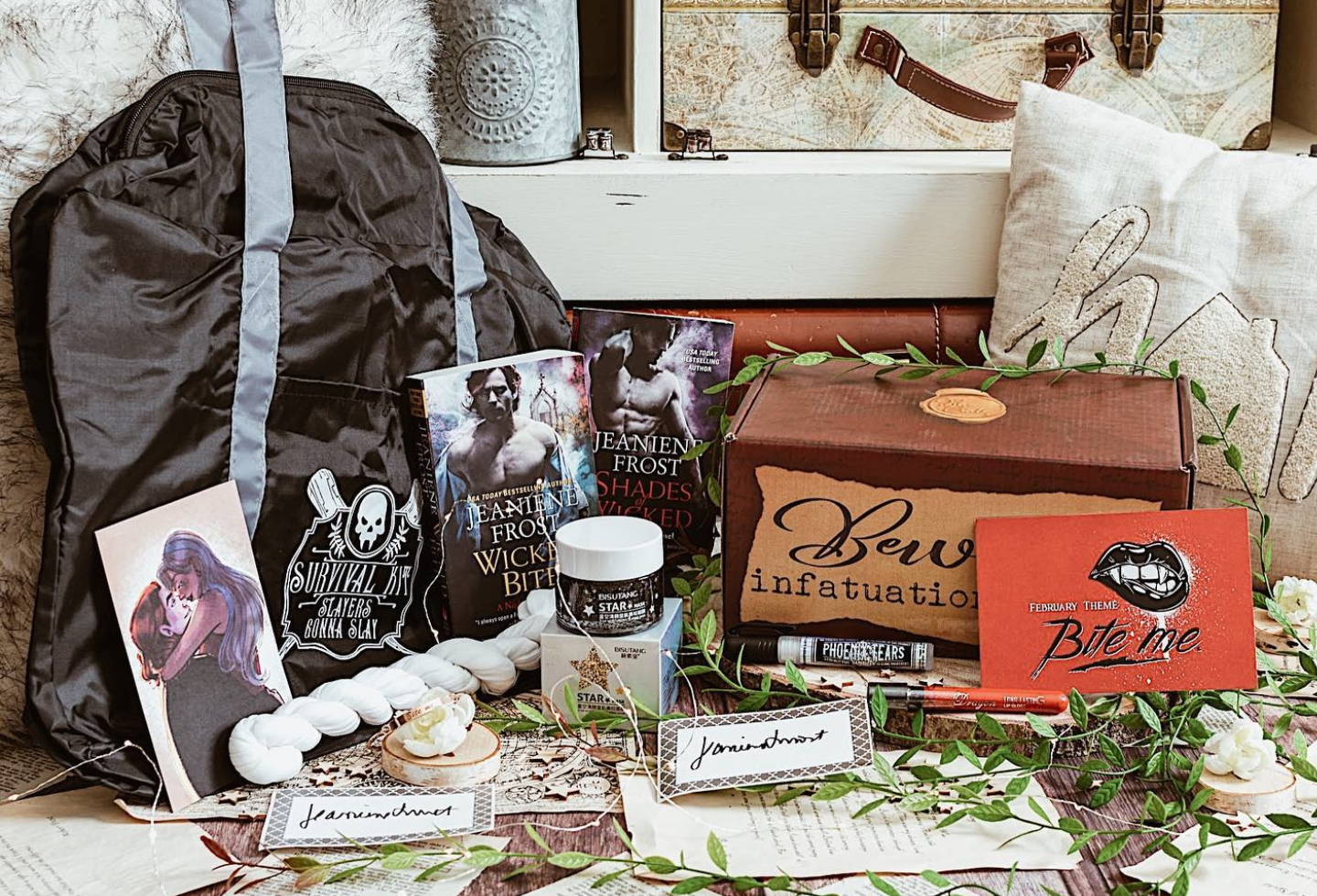 - Wicked Bite & Shades of Wicked by Jeaniene Frost with signed bookplates and author letter
- Couple art by marssketch
- Blood Red Liquid Lipstick
- Glitter Face Mask
- Bite Me Bracelet
- Scarf (assorted)
- Survival Kit Duffle Bag
-Image by @storied.adventures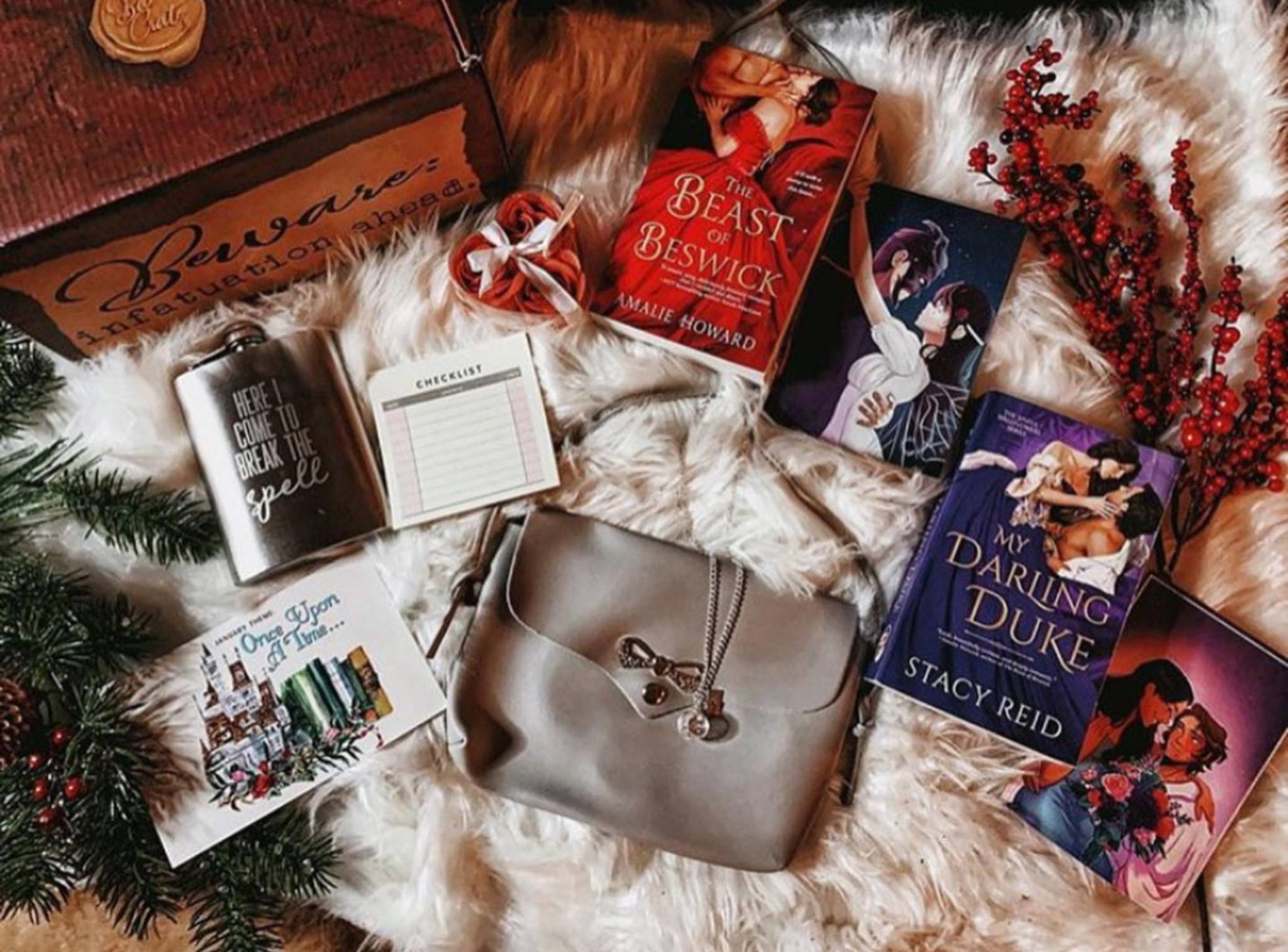 Once Upon A Time - January 2020
- The Beast of Beswick by Amalie Howard with signed bookplate and author letter
- My Darling Duke by Stacy Reid with signed bookplate and author letter
- Wish Necklace
- Rose Soaps
- Grey Bow Purse
- Notepad (assorted)
- Beauty and the Beast Flask
-Image by @metalheadreader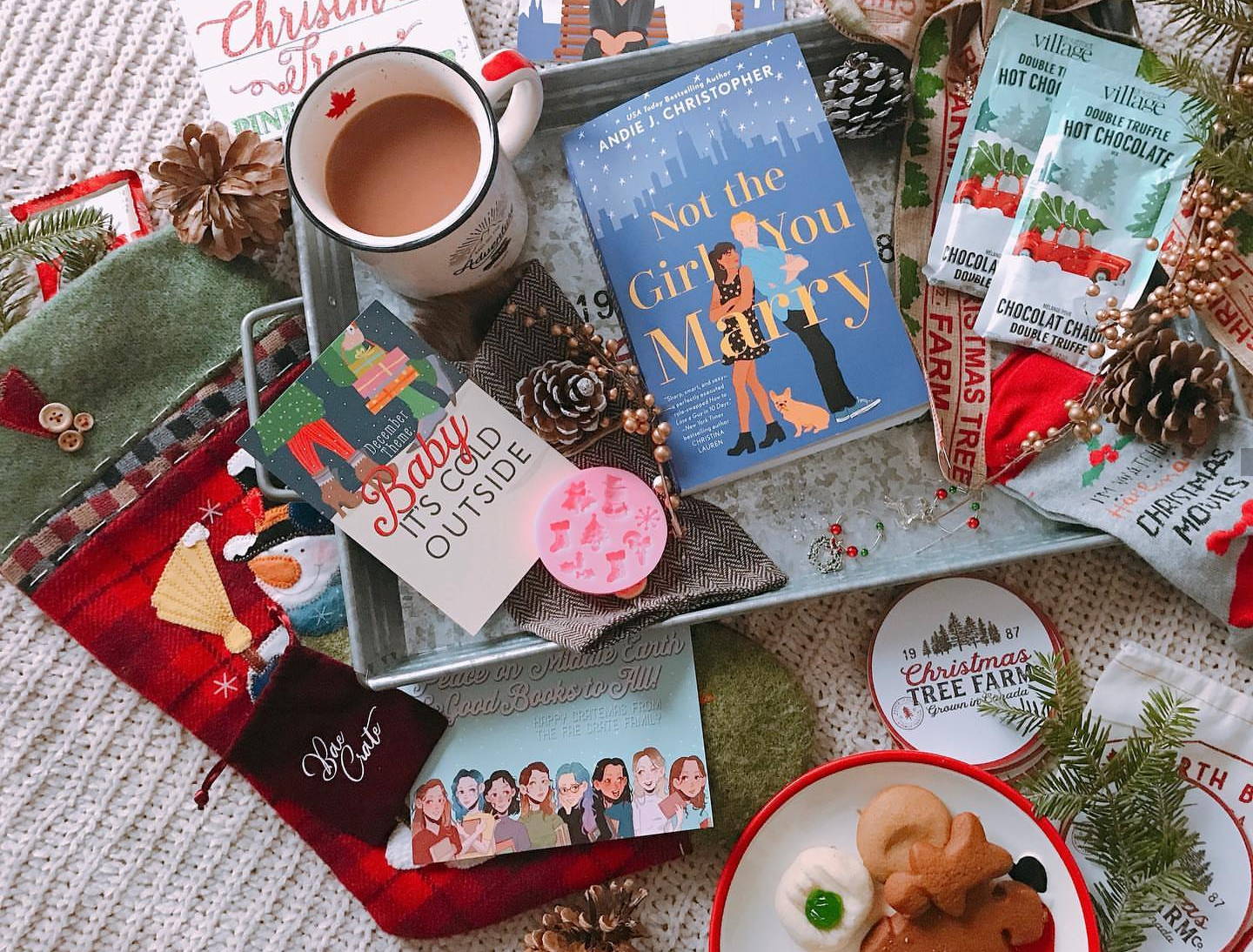 Baby, It's Cold Outside
- December 2019
- Not The Girl You Marry by Andie J. Christopher with signed bookplate and author letter
- Silicone Ice Tray
- Bottle Jacket
- Wine Glass Ornaments
- Snowflake Necklace
- Hallmark Socks
-Image by @lovebooksandtea97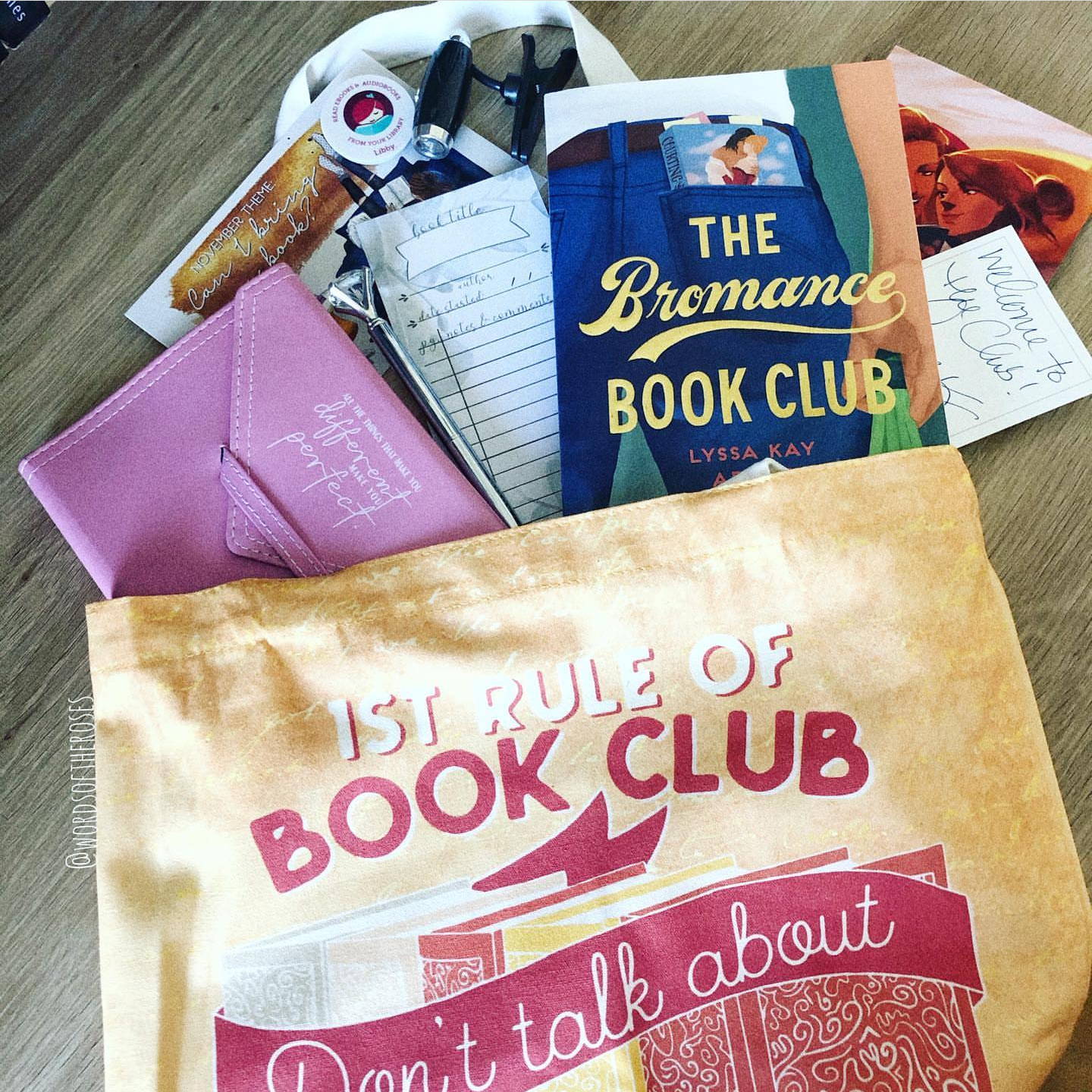 Can I Bring My Book?
- November 2019
- The Bromance Book Club by Lyssa Kay Adams with signed bookplate and author letter
-Bromance Book Club Tote by Reading Revelry
-Clip On Reading Light
-Jewel Pen
-Bookmark Review Notepad
-Libby Pop Socket from @overdrive_libs
-The Kiss Quotient Photo Folio
-Couple Art by @bucumber
-Image by @wordsoftheroses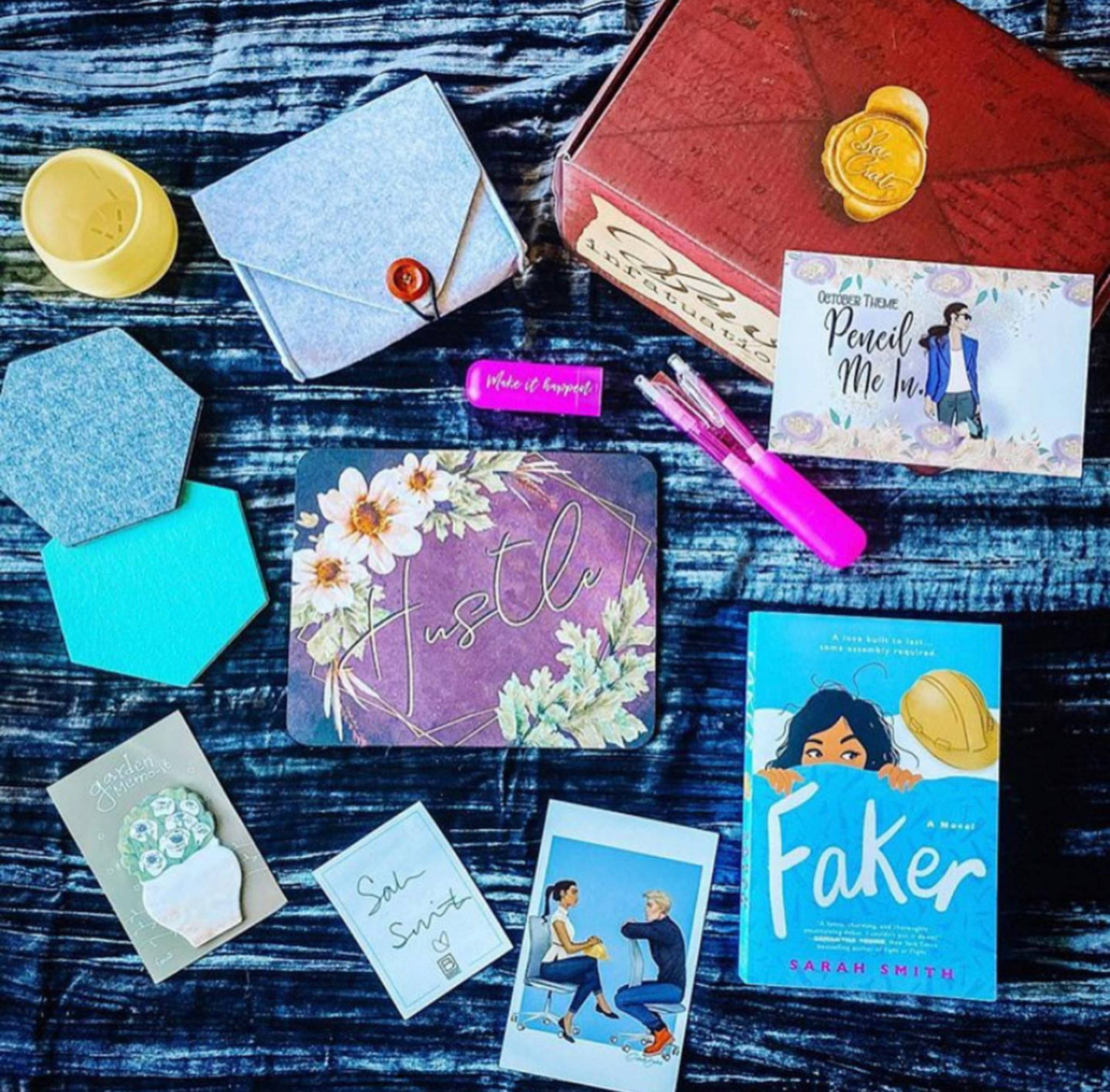 Pencil Me In - October 2019
-Faker by Sarah Smith with signed bookplate and author letter
-ebook Lessons In Corruption by Giana Darling
-"Make it Happen" pen/lead pencil/ruler set
-Yellow Desk Planter
-Garden Memo Pad
-Felt Pin Board Set
-Felt Organizer
-Hustle Mouse Pad by Reading Revelry
-Couple Art by Gabriella Bujdoso
-Image by @therusticbibliophile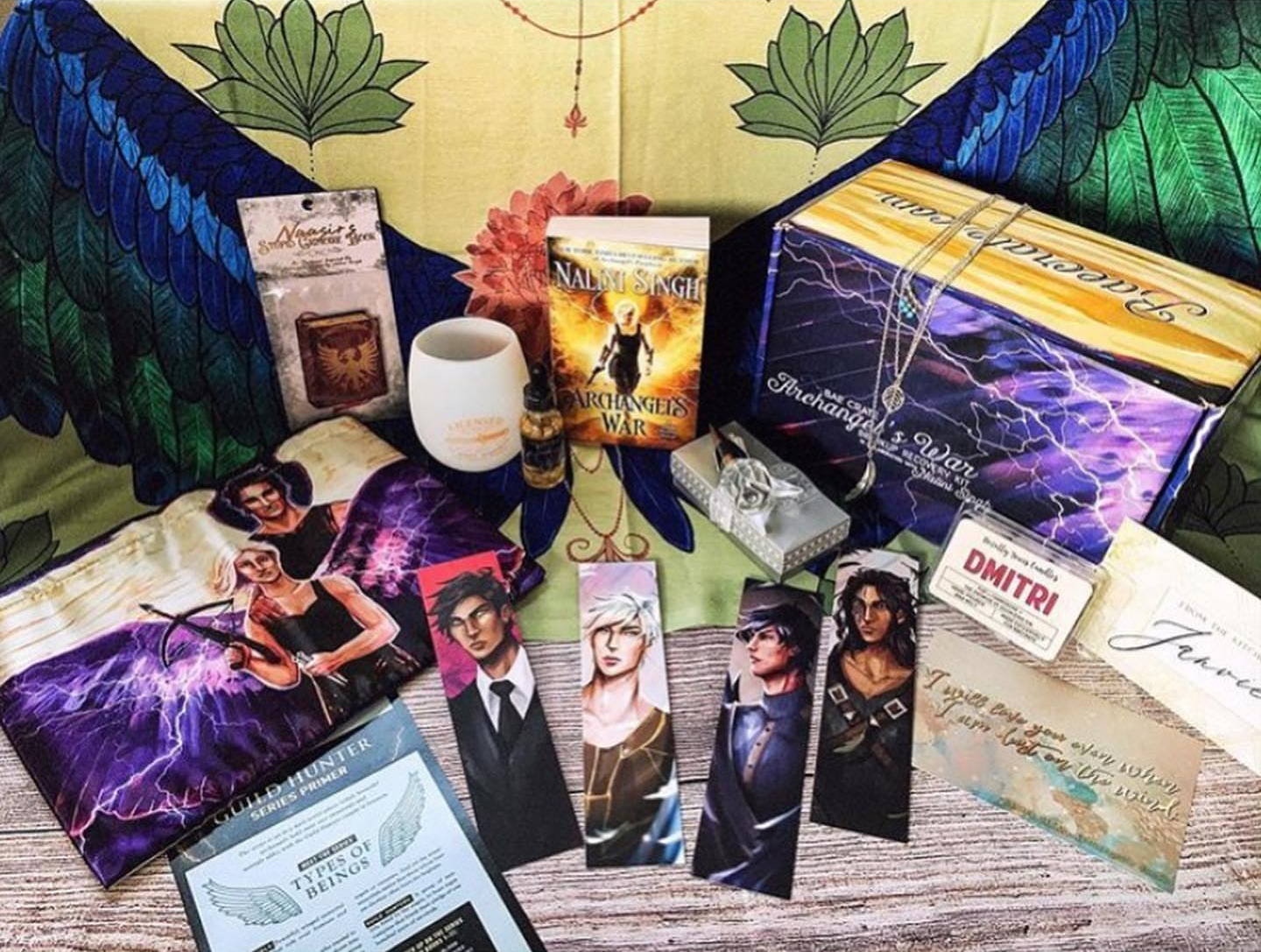 Archangel's War
Breakup Recovery Kit
-Archangel's War by @authornalinisingh with Signed Bookplate, letter from the author and a Series Primer
-Guild Hunter "Licensed to Hunt vampires and assorted others" Silicone Wine Glass By @vergeofwisteria
-Bookmark Set of Raphael and the Seven by the amazing @sallteas .
-Elena & Raphael Booksleeve by the talented @jezhawk
-Janvier Gumbo Recipe Card
-Nasir's Stupid Grimoire Book Air Freshener by @reading.revelry .
-A Touch Of Venom oil dropper by @wickandfable
-Mahiya's Wings Scarf by @gabriella.bujdoso 😍
-Illium's Feather Necklace
-Destiny's Rose Wine Bottle Stopper
-Dmitri Wax Melts by @novellyyours

-Image by @metalheadreader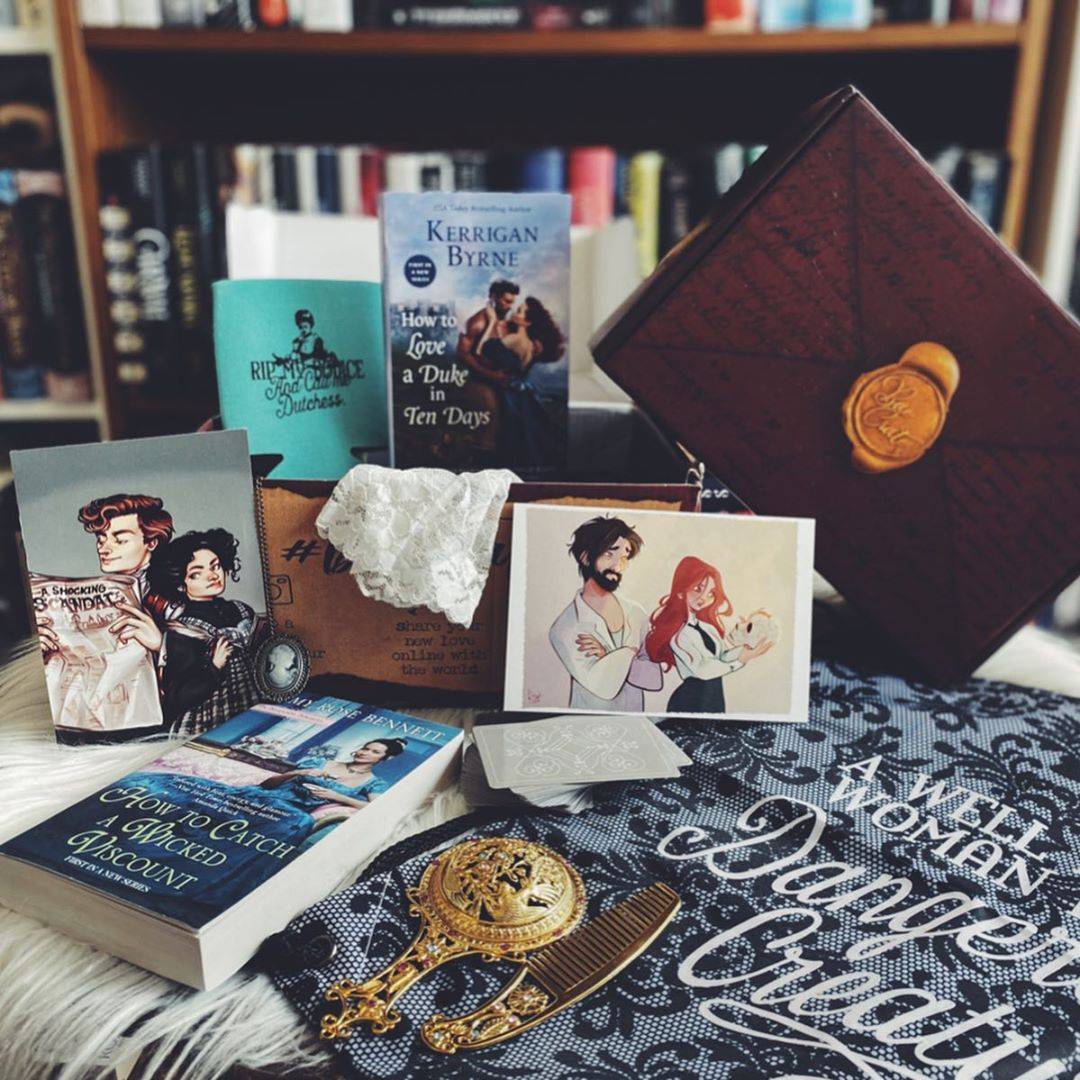 Rogues, Rakes, and Scoundrels
- September 2019
- Deck of Cards
- Dangerous Creatures Drawstring Bag
- Vintage Comb & Mirror Set
- Cameo Necklace
- Duchess Koozie
- Lace Boot Cuffs
- How to Love a Duke in Ten Days by Kerrigan Byrne, with signed bookplate, author letter, and couple art by Reirachel.art
- How to Catch a Wicked Viscount by Amy R. Bennett, with signed bookplate, author letter, and couple art by Chio Ink
- Image by @asthebookends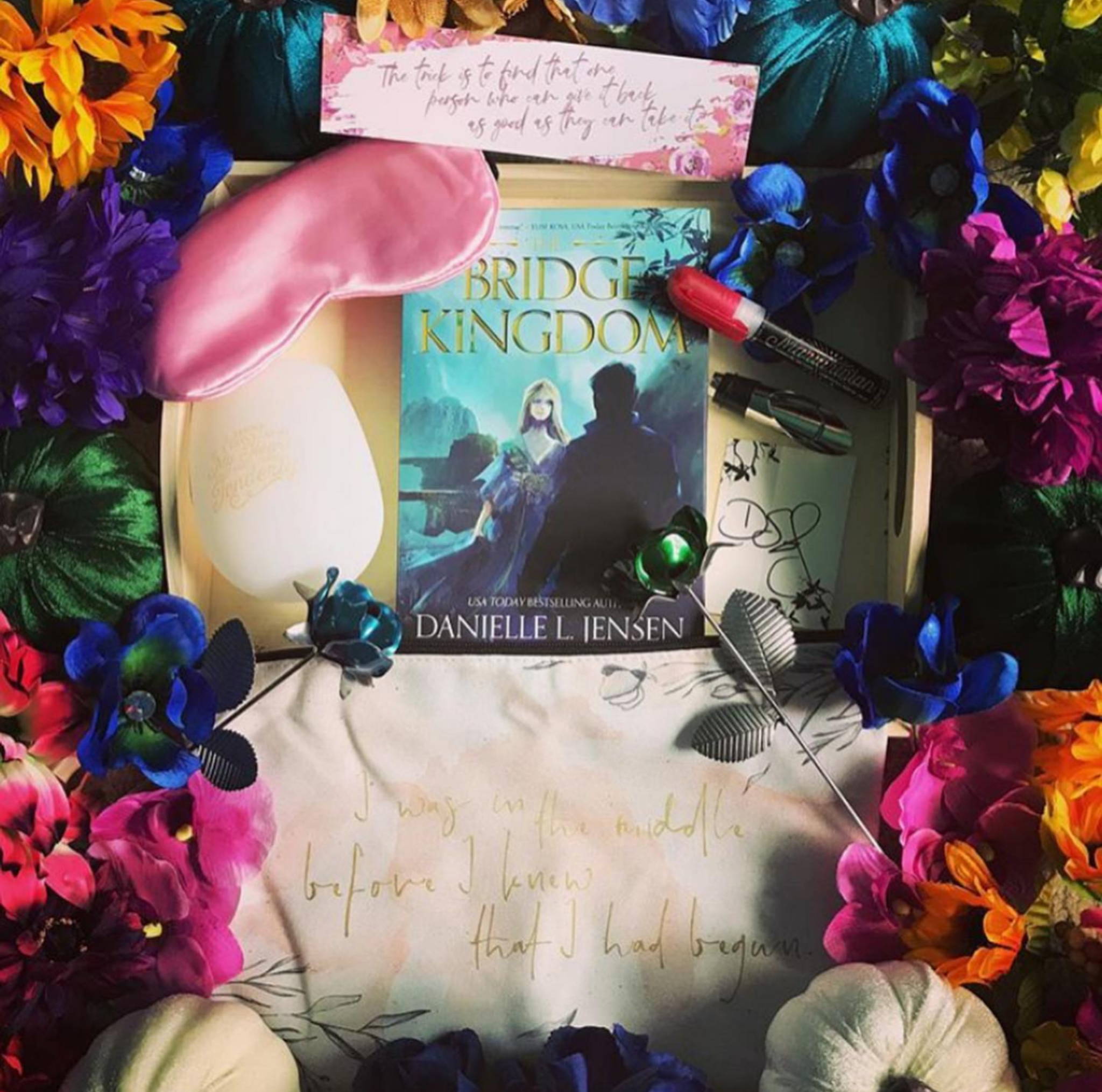 Sleeping With The Enemy
- August 2019
- Hand Sanitizer
- XL Pride and Prejudice Makeup Bag by Verge of Wisteria
- Sleep Face Mask
- The Hating Game Bookmark by Reading Revelry
- Captive Prince Silicone Wine Glass
- Wine Stopper/Aerator
- The Bridge Kingdom by Danielle L. Jensen, Exclusive Edition w/ signed bookplate, exclusive dust jacket art by Gabrielle Ragusi, and cover emboss design by Elisa Kova
- Image by @bookcharm25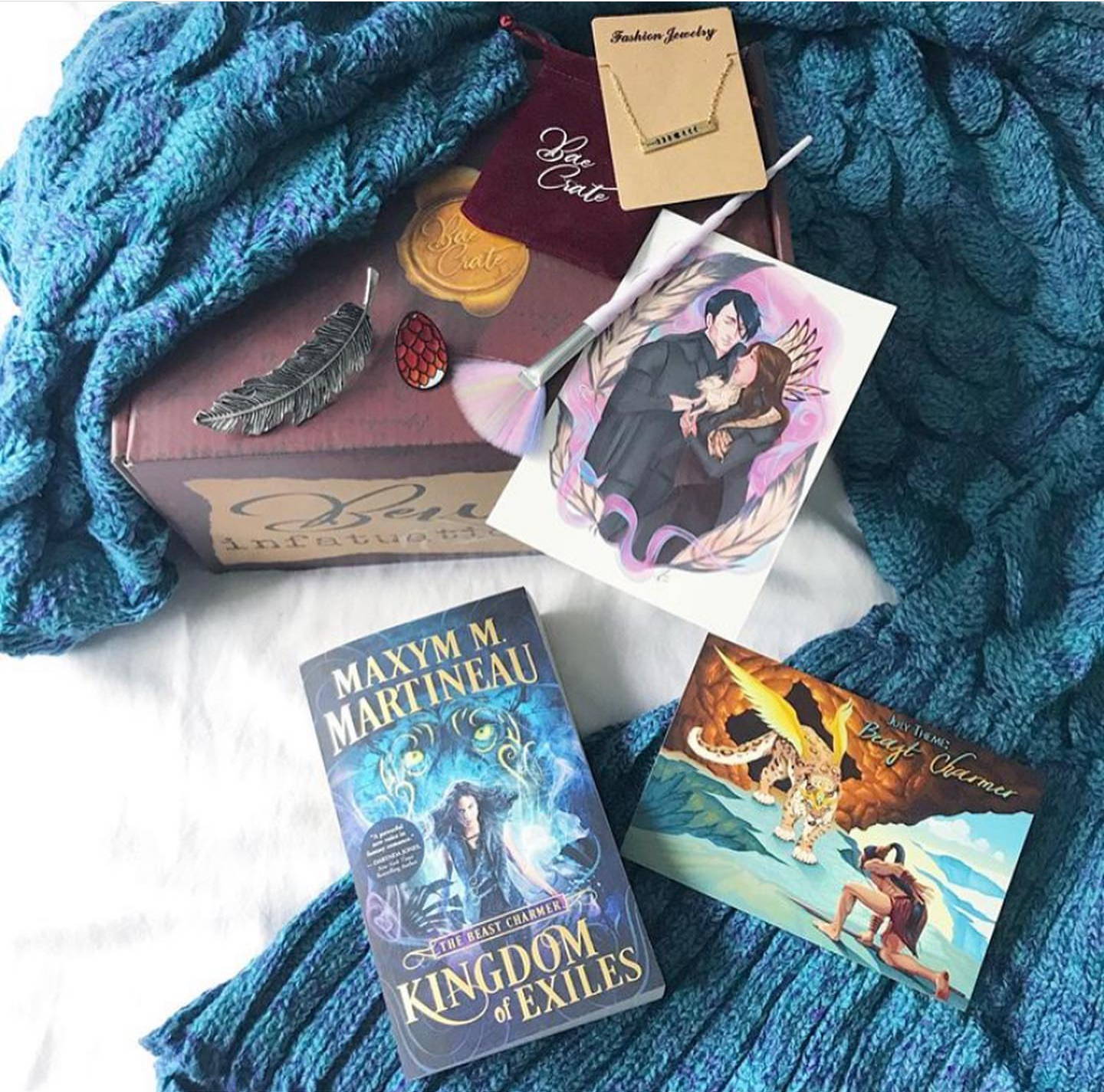 Beast Charmer - July 2019
- Adult Sized Blue Knit Mermaid Tail Blanket
- Feather Hair Clip
- Dragon Egg Pin
- Unicorn Highlighter Makeup Brush
- Werewolf Moon Phases Necklace
- Couple Art by @ladycamafeo
- Baby Mine ebook by Kennedy Fox
- Kingdom of Exiles by Maxym M. Martineau w/ author note & bookplate

- Image by @peacelovebooksxo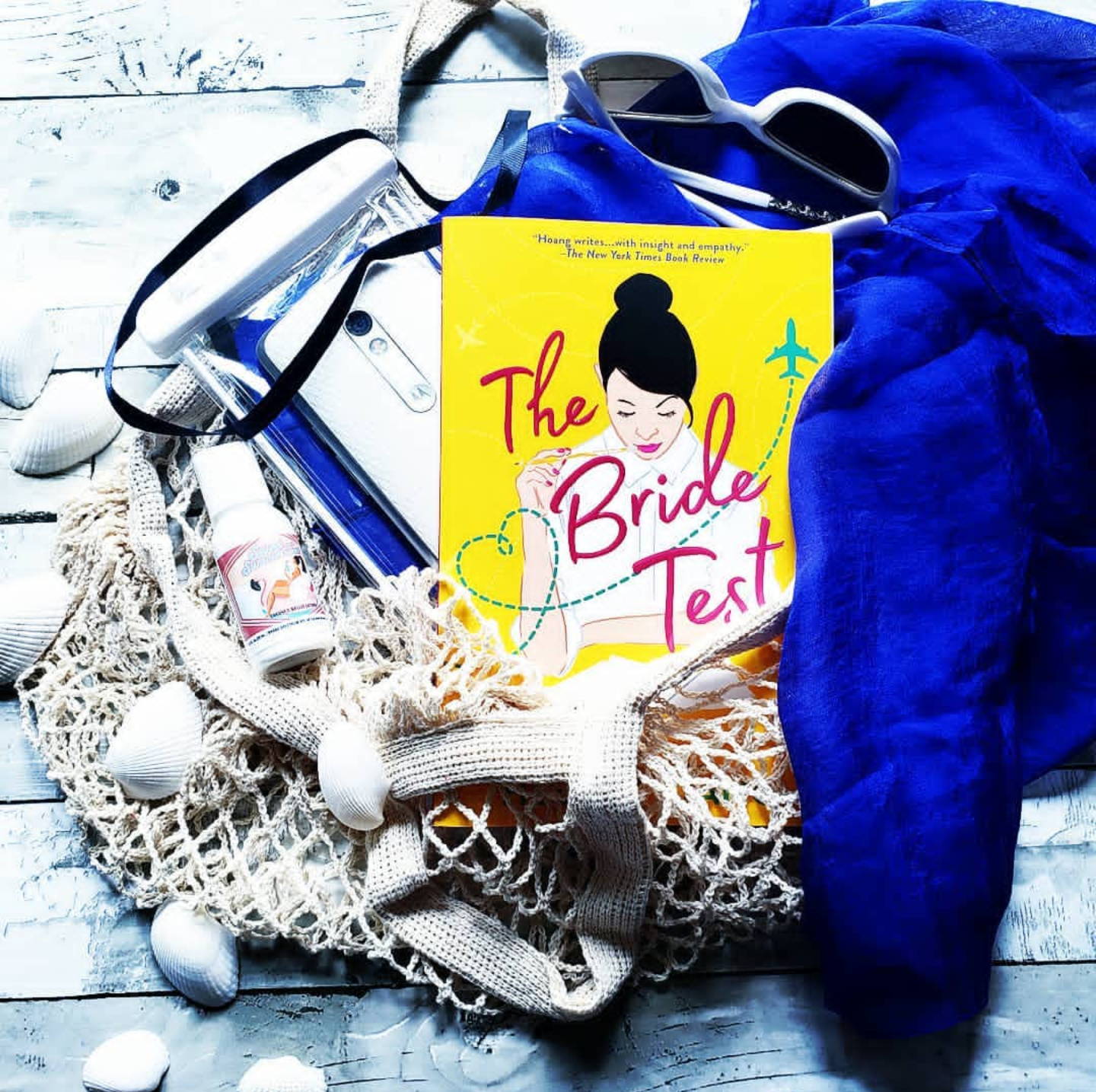 Summer Lovin' - June 2019
- Coconut Breeze Lotion
- Glowing Waterproof Phone Holder
- Beach Sarong/Cover-Up
- Mesh Beach Bag
- Inflatable Flamingo Cup Holder
- Couple Art by @eklixio
- The Best Years perfume & ebook by Elena Monroe
- The Bride Test by Helen Hoang w/ author note & bookplate

- Image by @reading_under_the_willowtree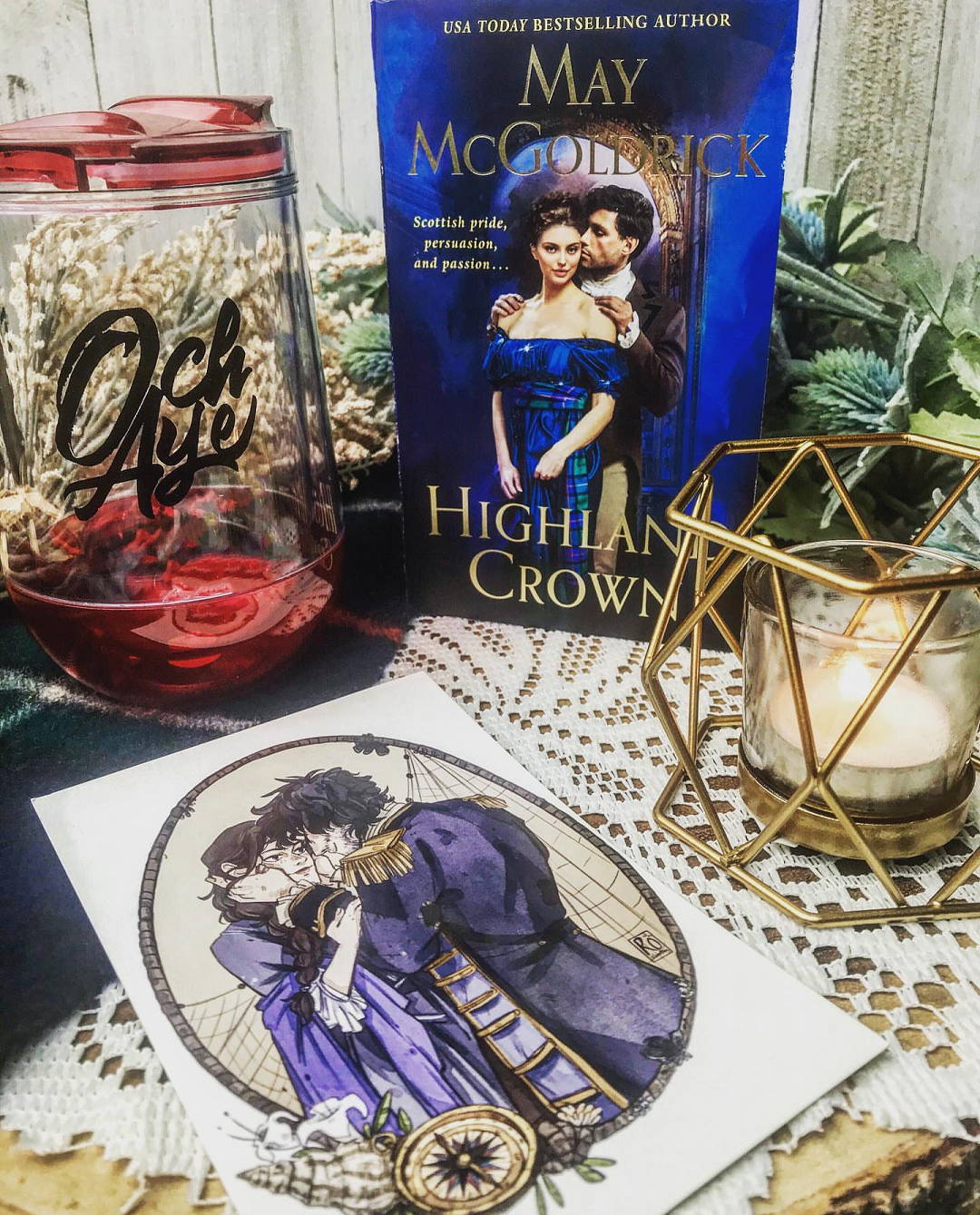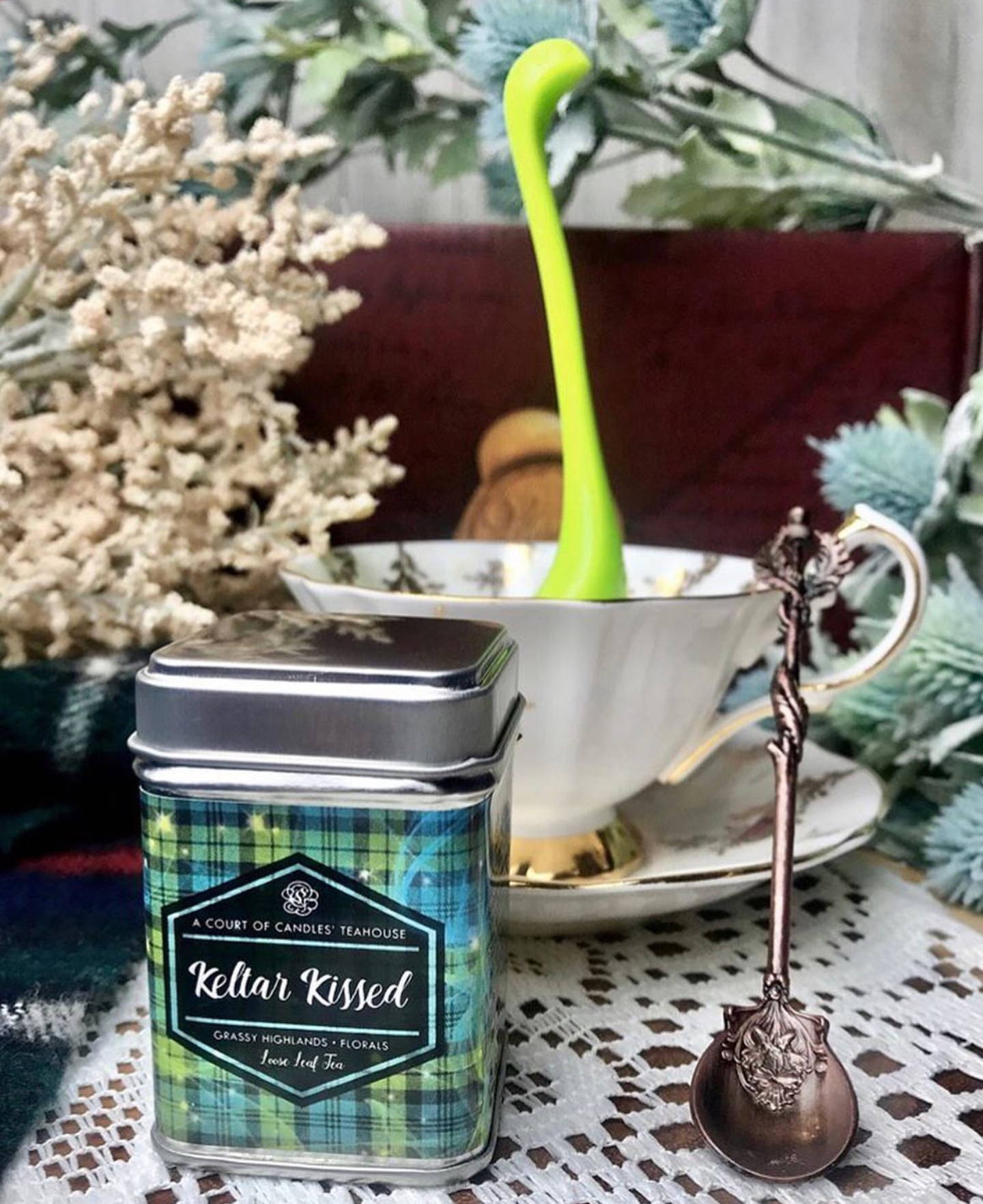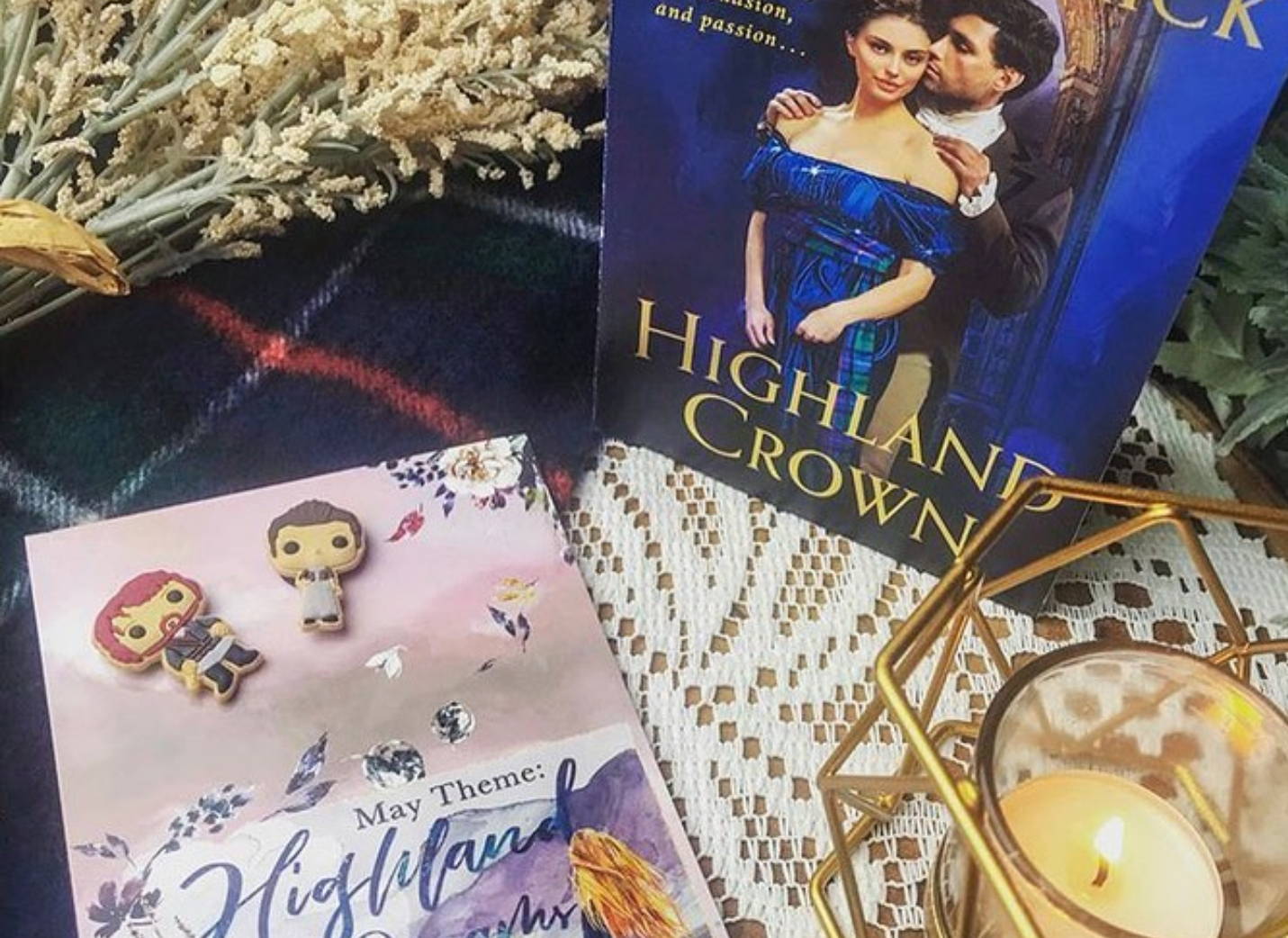 Highlander Dreams - May 2019
- Loch Ness Tea Infuser
- Keltar Kissed Tea by @acourtofcandles
- Thistle Tea Spoon
- Jamie & Claire Magnets
- Couple Art by @roitssomething
- "Och Aye" Wine Tumbler
- Highland Crown by May McGoldrick w/ author letter & bookplate
- Images by @bookmarks_and_teacups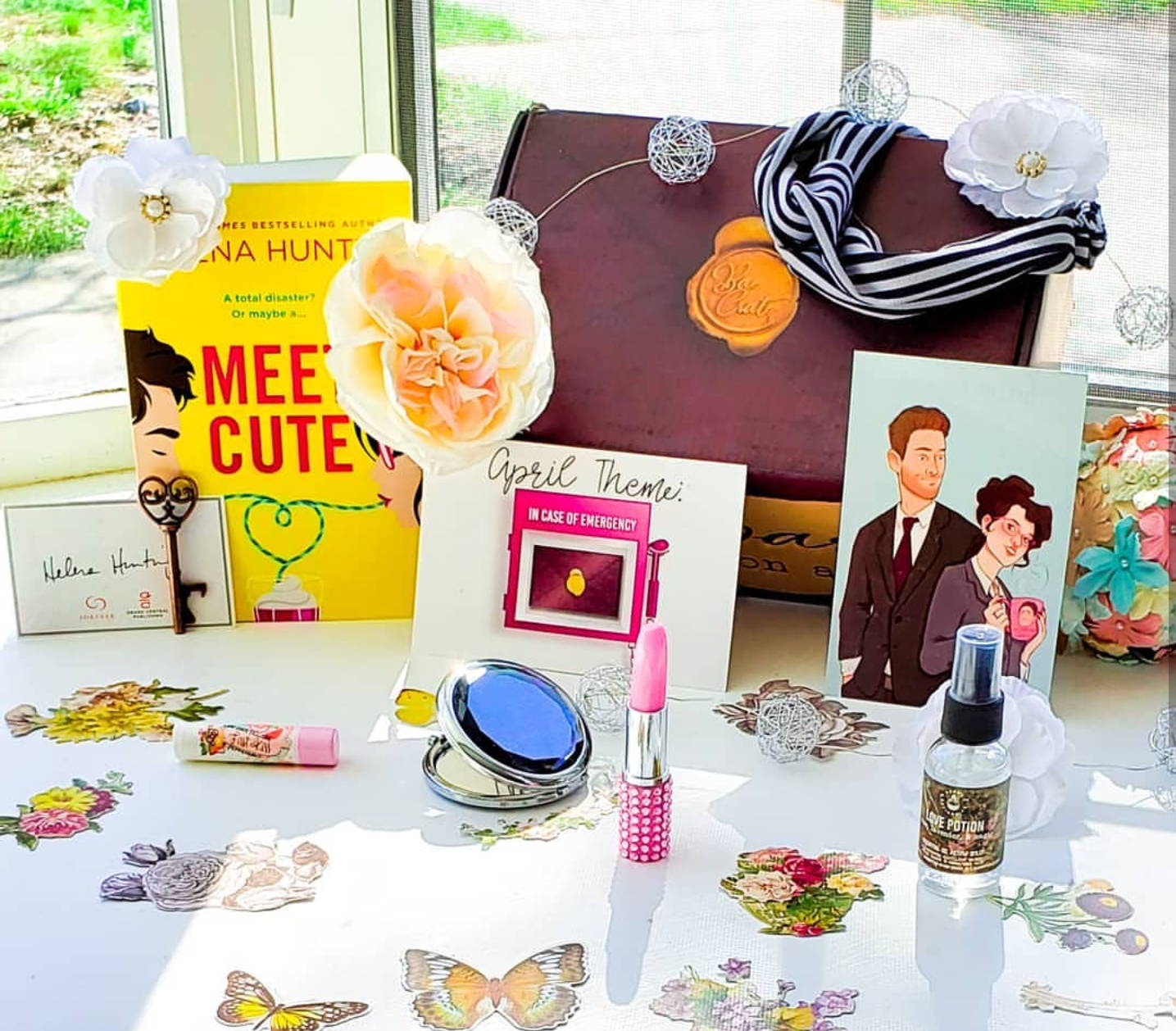 In Case of Emergency - April 2019
- Lipstick pen
- Knot hairband
- Heart key bottle opener
- Jeweled Pocket Mirror
- First Kiss Mint Chapstick
- Couple Art by @inthegalexy
- Love Potion Pillow Spray by @nerdypotionsco
- Meet Cute by Helena Hunting w/ author note & bookplate

- Image by @lotusreads