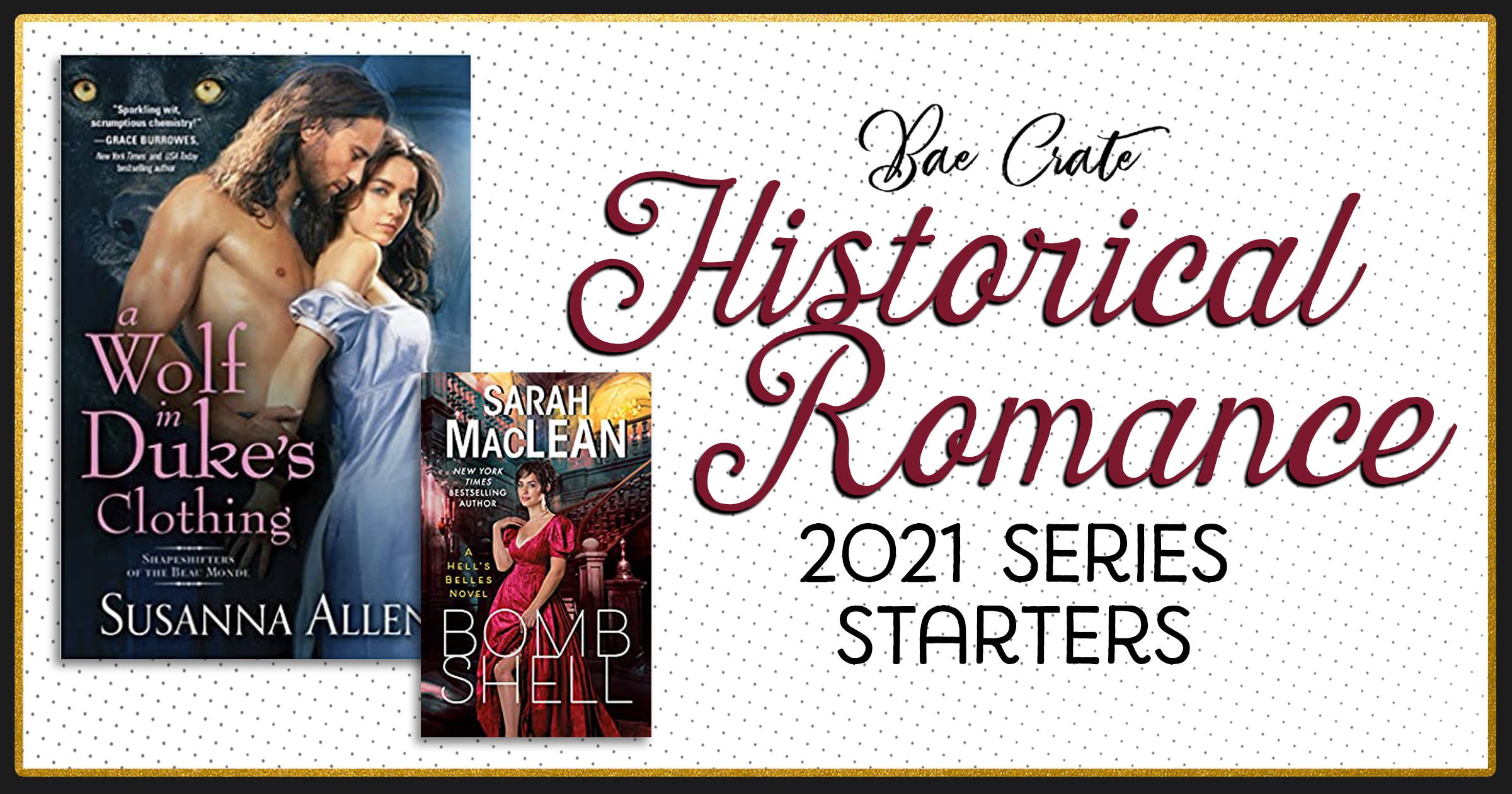 There is no denying that Historical Romance is having a *moment* in 2021. After you've binged all the historical shows and movies Netflix has to offer, you may want to look to your bookshelves for your next histrom pick me up.
There are so many amazing historical romance series, but a huge series can be a daunting commitment when you're wanting a new read. We've compiled a list of historical romance series starters coming your way this year!
Scoundrel of My Heart
by Lorraine Heath
Historical romance favorite Lorraine Heath is back with a new series, Once Upon a Dukedom. Available March 30th
She is desperate to wed a duke...
Lady Kathryn Lambert must marry a titled gentleman to claim her inheritance and has finally gained the attention of a duke. Yet she is unable to forget the scandalous second son who aided in her achievement—or his betrayal.
He wants what he can never possess...
Lord Griffith Stanwick is tormented by the bitter truth that as a "spare," he will never be able to give Kathryn what she yearns to possess. But when his father is found guilty of treason, Griff detours into the dark and dangerous corners of London, haunted by memories of the woman lost to him forever.
Love not to be denied...
As the duke's courtship intensifies, Kathryn discovers Griff has become a man to be reckoned with. When old passions flare and new desires ignite, she must decide if sacrificing her legacy is worth a lifetime shared with the scoundrel of her heart.
A Duke In Time
by Janna MacGregor
What would you do if after your spouse died you discovered they had two other wives? The heroines of The Widow Rules series meet in the solicitor's office after their husband passes, and learn they were all married to the same man. Available June 29th.
Katherine Vareck is in for the shock of her life when she learns upon her husband Meri's accidental death that he had married two other women. Her entire business, along with a once-in-a-lifetime chance to be a royal supplier, is everything she's been working for and now could be destroyed if word leaks about the three wives.
Meri's far more upstanding brother, Christian, Duke of Randford has no earthly clue how to be of assistance. He spent the better part of his adult years avoiding Meri and the rest of his good-for-nothing family, so to be dragged back into the fold is…problematic. Even more so is the intrepid and beautiful Katherine, whom he cannot be falling for because she's Meri's widow. Or can he?
With a textile business to run and a strong friendship forming with Meri's two other wives, Katherine doesn't have time for much else. But there's something about the warm, but compellingly taciturn Christian that draws her to him. When an opportunity to partner in a business venture brings them even closer, they'll have to face their pasts if they want to share each other's hearts and futures.
The Heiress Hunt
by Joanna Shupe
Joanna Shupe brings Gilded Age New York alive with bold and witty heroines determined to make their own place in the world. The Fifth Avenue Rebels is the perfect place to jump into Shupe's writing and fall in love with American set historicals. Available March 9th.
High society reprobate.
An unconventional heiress.
Childhood friends.
Is it too late...
Knickerbocker scoundrel Harrison Archer returns to New York to discover that his deceased father has bankrupted his estranged family. To save them from ruin, he's forced to quickly find and marry an heiress. For a matchmaker, Harrison turns to the one woman he wishes he could marry: his childhood friend and true love, Maddie, who once broke his heart and is now engaged to a duke.
For true love?
When her best friend Harrison left for Paris without a word, Maddie Webster took refuge in her infatuation with tennis. Now Harrison is back and needs her help in finding a bride. Begrudgingly, Maddie arranges a house party in Newport with a guest list of eligible heiresses. But watching Harrison flirt with potential brides is more than she can bear.
When Harrison and Maddie reunite, the passion between them ignites. But with their marriages to others looming, time is running out. Is their fate inescapable . . .or can love set them free?
The Wisteria Society of Lady Scoundrels
by India Holton
They had me at "Lady Soundrels," but with a blurb including lady thieves, crazy pirates, and an assassin hero my one-click finger got a bit trigger happy. Available June 5th
A prim and proper lady thief must save her aunt from a crazed pirate and his dangerously charming henchman in this fantastical historical romance.
Cecilia Bassingwaite is the ideal Victorian lady. She's also a thief. Like the other members of the Wisteria Society crime sorority, she flies around England drinking tea, blackmailing friends, and acquiring treasure by interesting means. Sure, she has a dark and traumatic past and an overbearing aunt, but all things considered, it's a pleasant existence. Until the men show up.
Ned Lightbourne is a sometimes assassin who is smitten with Cecilia from the moment they meet. Unfortunately, that happens to be while he's under direct orders to kill her. His employer, Captain Morvath, who possesses a gothic abbey bristling with cannons and an unbridled hate for the world, intends to rid England of all its presumptuous women, starting with the Wisteria Society. Ned has plans of his own. But both men have made one grave mistake. Never underestimate a woman.
When Morvath imperils the Wisteria Society, Cecilia is forced to team up with her handsome would-be assassin to save the women who raised her--hopefully proving, once and for all, that she's as much of a scoundrel as the rest of them.
A Rogue to Remember
by Emily Sullivan
Meddling-childhood-friend-turned-lover? Count me IN. This debut novel is available March 9th.
After enduring five interminable seasons, Lottie Carlisle has had enough of shallow London society, her boring little life, and her uncle Alfred's meddling. When he demands she accept a
proposal by the end of next season or else he will choose a husband for her, she devises a plan: create a scandal shocking enough to make her unmarriageable and spend her spinsterhood far enough away in the countryside where no one will ever recognize her.
Alec Gresham hasn't seen Lottie since he left his childhood friend without a word five years ago. So he's not surprised to find her furious when he appears on her doorstep. Especially bearing the news he brings: her uncle is dying, her blasted reputation is still intact, and Lottie must return home. As they make the journey back to her family estate, it becomes increasingly clear that the last five years hasn't erased their history, nor their explosive chemistry. Can Lottie look past her old heartache and trust Alec, or will his secrets doom their relationship once again?
Bombshell
by Sarah MacLean
I will read anything Sarah MacLean writes, but after YEARS of waiting for Sesily's story, I cannot wait for this book to release August 24th. If you haven't yet read MacLean, while this story features characters from past series, it will be the perfect place to dive in. No need to read the previous series.
After years of living as London's brightest scandal, Lady Sesily Talbot has embraced the reputation and the freedom that comes with the title. No one looks twice when she lures a gentleman into the dark gardens beyond a Mayfair ballroom…and no one realizes those trysts are not what they seem.
No one, that is, but Caleb Calhoun, who has spent years trying not to notice his best friend's beautiful, brash, brilliant sister. If you ask him, he's been a saint about it, considering the way she looks at him…and the way she talks to him…and the way she'd felt in his arms during their one ill-advised kiss.
Except someone has to keep Sesily from tumbling into trouble during her dangerous late-night escapades, and maybe close proximity is exactly what Caleb needs to get this infuriating, outrageous woman out of his system. But now Caleb is the one in trouble, because he's fast realizing that Sesily isn't for forgetting…she's forever. And forever isn't something he can risk.
A Cowboy of Legend
by Linda Broday
Western romance? Yes, please! This series starter following a saloon owner and a woman determined to keep alcohol out of her town promises to be heartfelt and swoon-worthy. Available April 27th.
Deacon Brannock is determined to make a name for himself and the saloon he's worked his whole life to afford. He was prepared for life in the Wild West, but he hadn't counted on Grace Legend...
Grace has always fought hard for what she believes in, and after her best friend is killed at the hands of her drunk and angry husband, that includes keeping alcohol out of her town. When the owner of the new saloon turns out to be a kind and considerate man, she can't help but wonder if they could have a future together...if they weren't on opposite sides of every issue.
The Scot Who Loved Me
by Gina Conkle
A second chance romance in the Highlands? I cannot wait. Available May 25
Proud Scot Will MacDonald sits in prison for wearing his kilt. He's determined to leave England as soon as he's released, but his plans go awry when a mysterious woman enters his cell, promising freedom and gold.
Anne Fletcher never thought she'd see her former lover again. She knows Will hasn't forgiven her for leaving him so many years ago, but to accomplish her league's mission, she needs him by her side. Stealing the Treasure of Lock Arkaig from English hands and returning it to the Highlands where it belongs is no easy feat. But with Will's help, they can achieve the impossible, even if being with him is as painful as it is pleasurable.
Taking back the fortune could mean death, but after being parted from Anne for so long, Will can't leave her side. As they work together to steal the treasure from watchful eyes, will they return to their lonely lives, or will they risk everything for a love they thought was lost forever?
A Wolf In Duke's Clothing by Susanna Allen
A paranormal historical? This combines two of my most loved subgenres, and I cannot wait to have this in my hands! Available April 27th.
Alfred Blakesley, Duke of Lowell, has long been an enigma. No one dares to give a man of his stature the cut direct, but there's simply something not quite right about him. What would the society mamas say if they learned that the something they sensed was the fact that Alfred is a wolf shifter...? He's been looking for his mate for a long time, but not just any young lady will do for him, or for his pack.
Felicity Templeton has one goal: to remain unmarried. If she can manage that until her twenty-fifth birthday, she stands to inherit a large fortune. But when she meets Alfred, the dashing duke is determined to have her for his very own...and a wolf who's a duke can be very persuasive...


2021 is going to be an excellent year for reading. What historical romances are on your radar?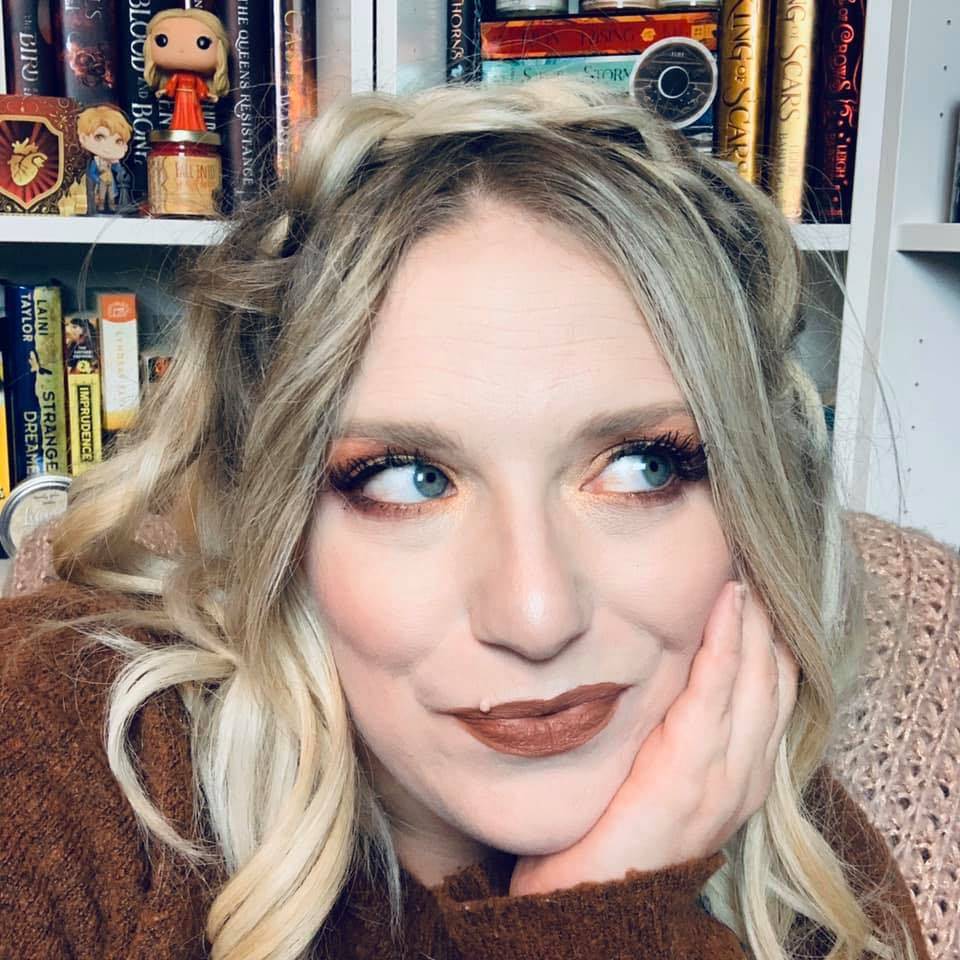 Written By:
Taylor, Social Media Assistant
""I need a queso fountain.""
Published On:
March 8, 2021