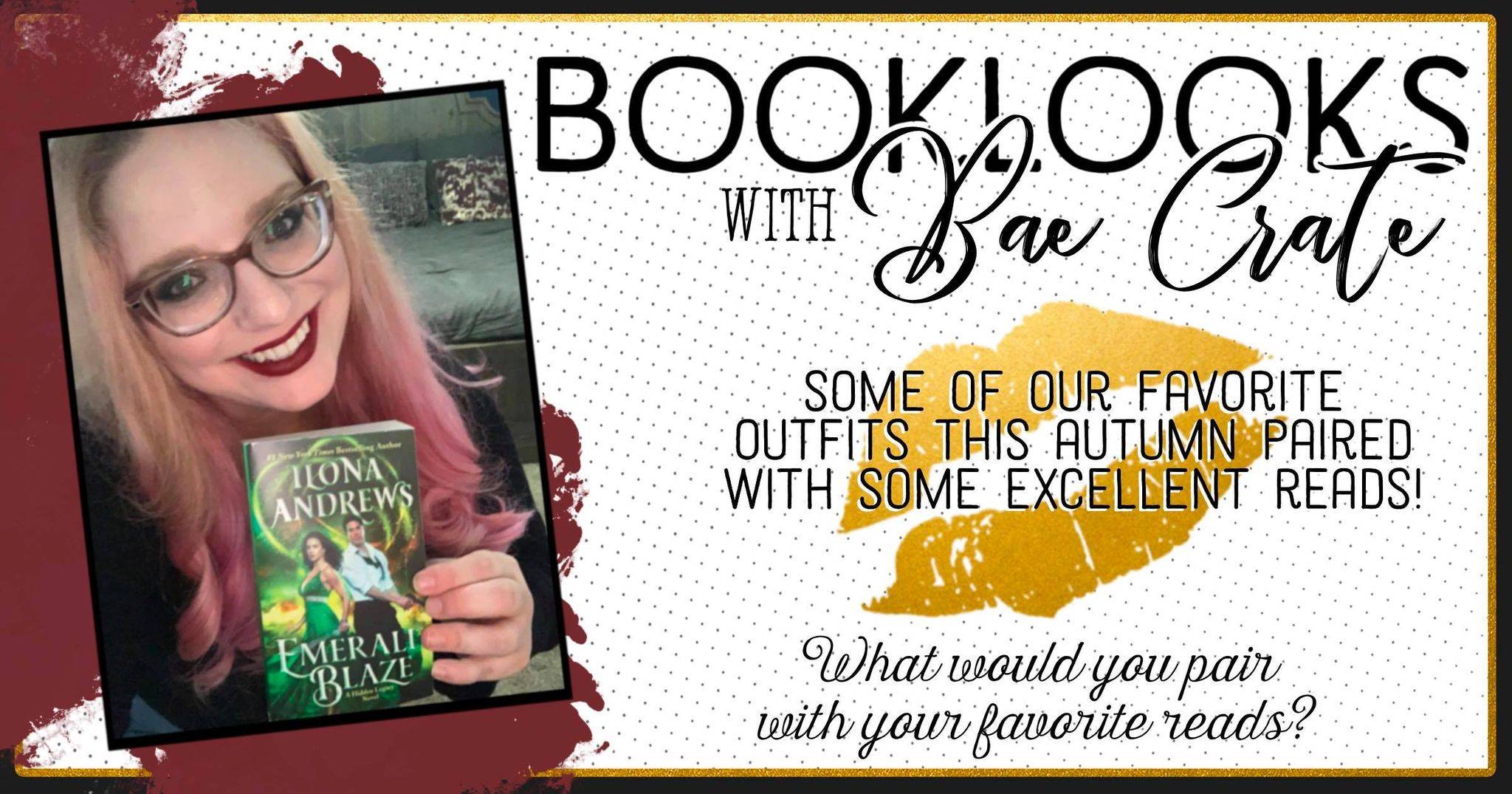 I love fashion and romance, and today I am going to pair the two with a few BookLooks for you! These are some of my favorite outfits this autumn paired with some excellent recent reads.
Wasted Words by Staci Hart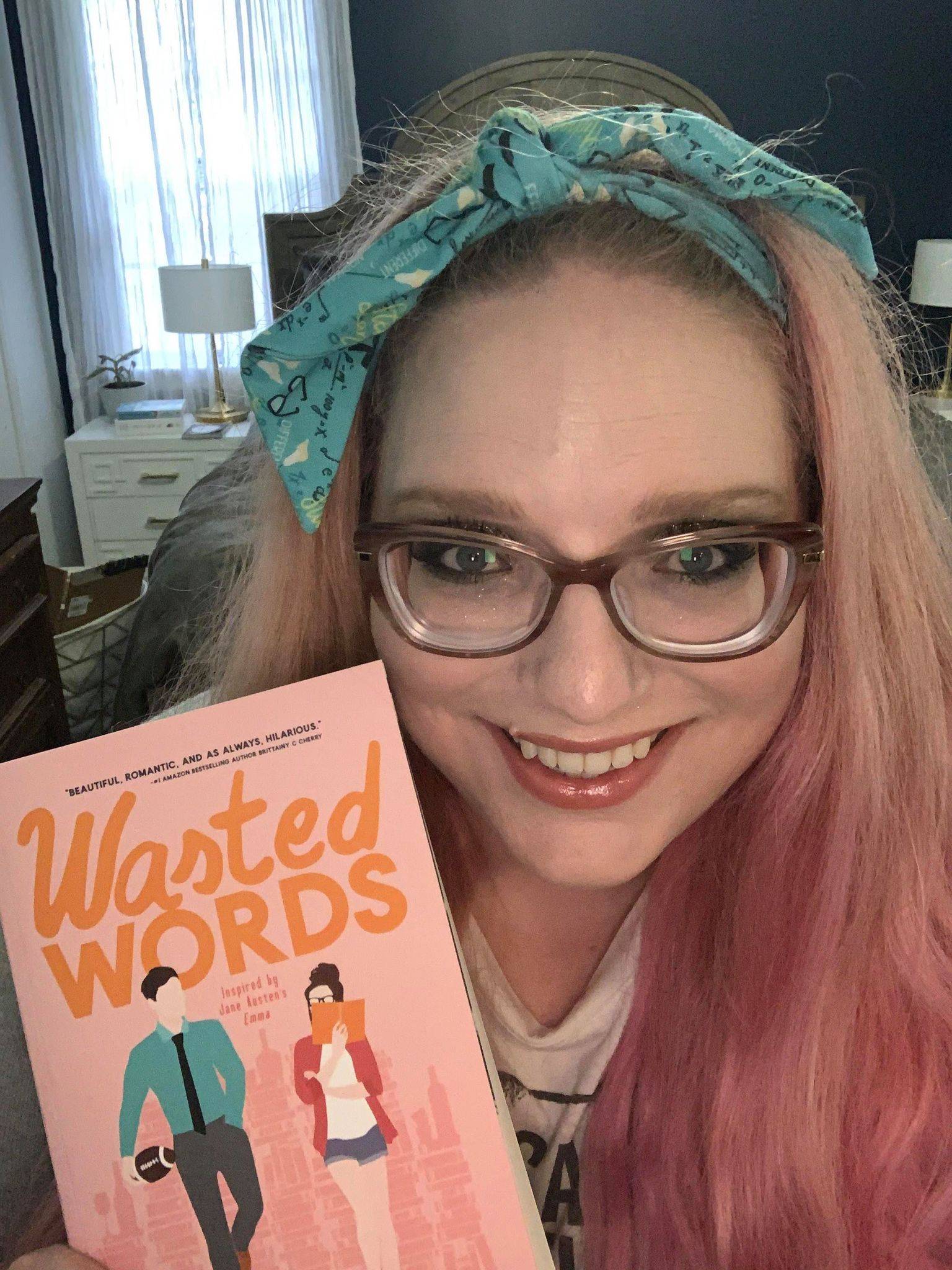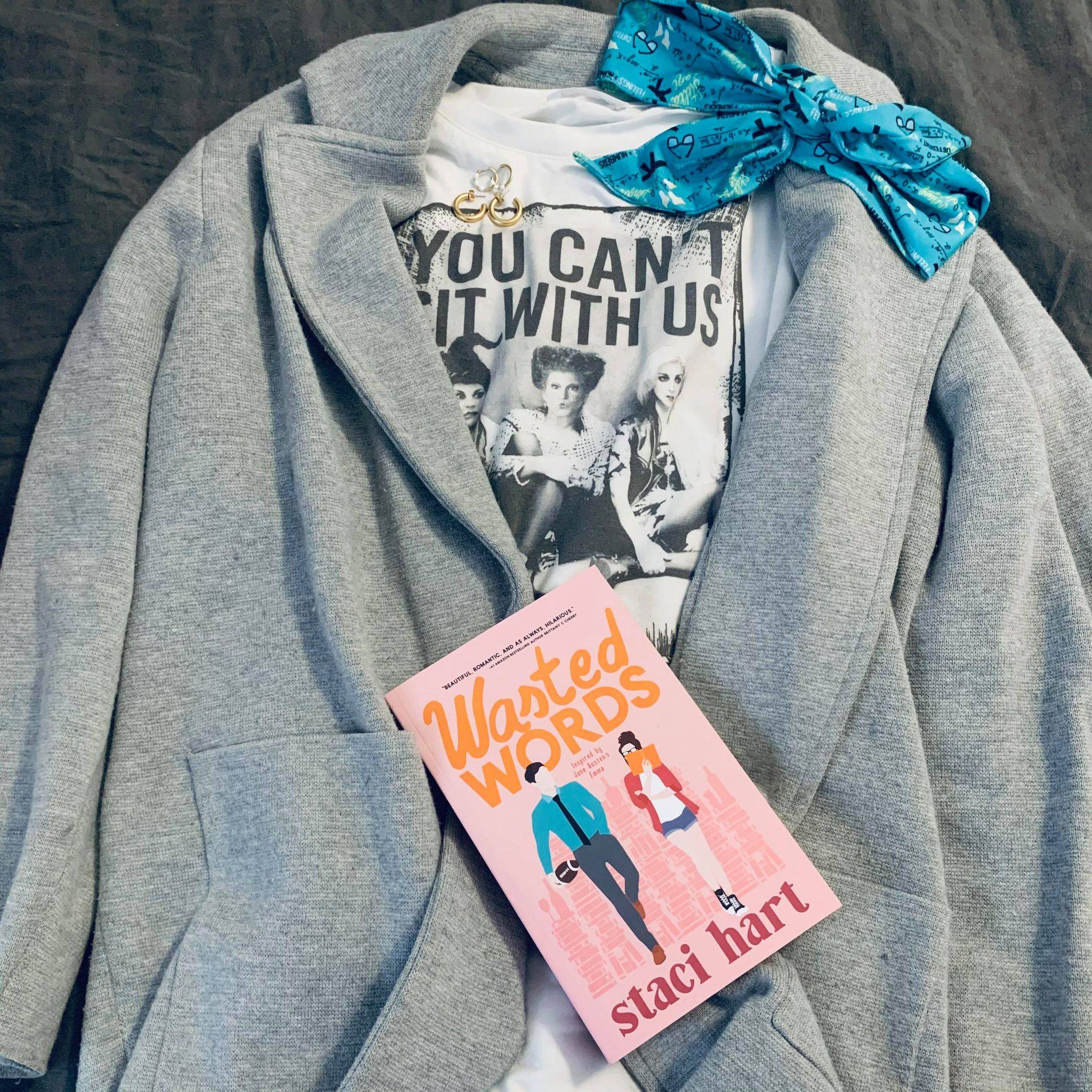 This book is filled with nerdy tees and costume parties! I loved this modern day Emma retelling set around a bar/bookstore in New York City. I had to pair this with my favorite fall mashup tee: Breakfast Club meets Sanderson Sisters meets Mean Girls. You can always sit with us, though.
Some universal truths refuse to be ignored.
Peanut butter and jelly are a match made in heaven. Spaghetti and meatballs are best friends forever. And guys like Tyler Knight don't go for girls like Cam Emerson.
She knew from the second she met him that he didn't belong on her bookshelf, the six-foot-six ex-tight end with a face so all-American, it could have sold apple pie. So she shelved him next to the supermodels and rock stars and took her place on her own shelf — the one with the flannel-clad, pasty-faced comic book nerds. Most of her boyfriends have existed between the pages of books, but rather than worrying over her own lacking love life, she puts all her energy into playing Cupid, using her job at the book bar, Wasted Words, as her stomping ground.
Tyler Knight always looks on the bright side. His career-ending injury turned into a job as a sports agent. A horrible breakup led him to Cam, his quirky, smart roommate who is far more beautiful than she realizes. She's made it perfectly clear she's not interested in him — not like that at least — but if she ever changes her mind, he won't hesitate. Because he doesn't see the lines she's drawn between them, as much as she insists that they're there. Deep down he knows that despite their differences, they're a match well made.
Blood of Zeus by Meredith Wild & Angel Payne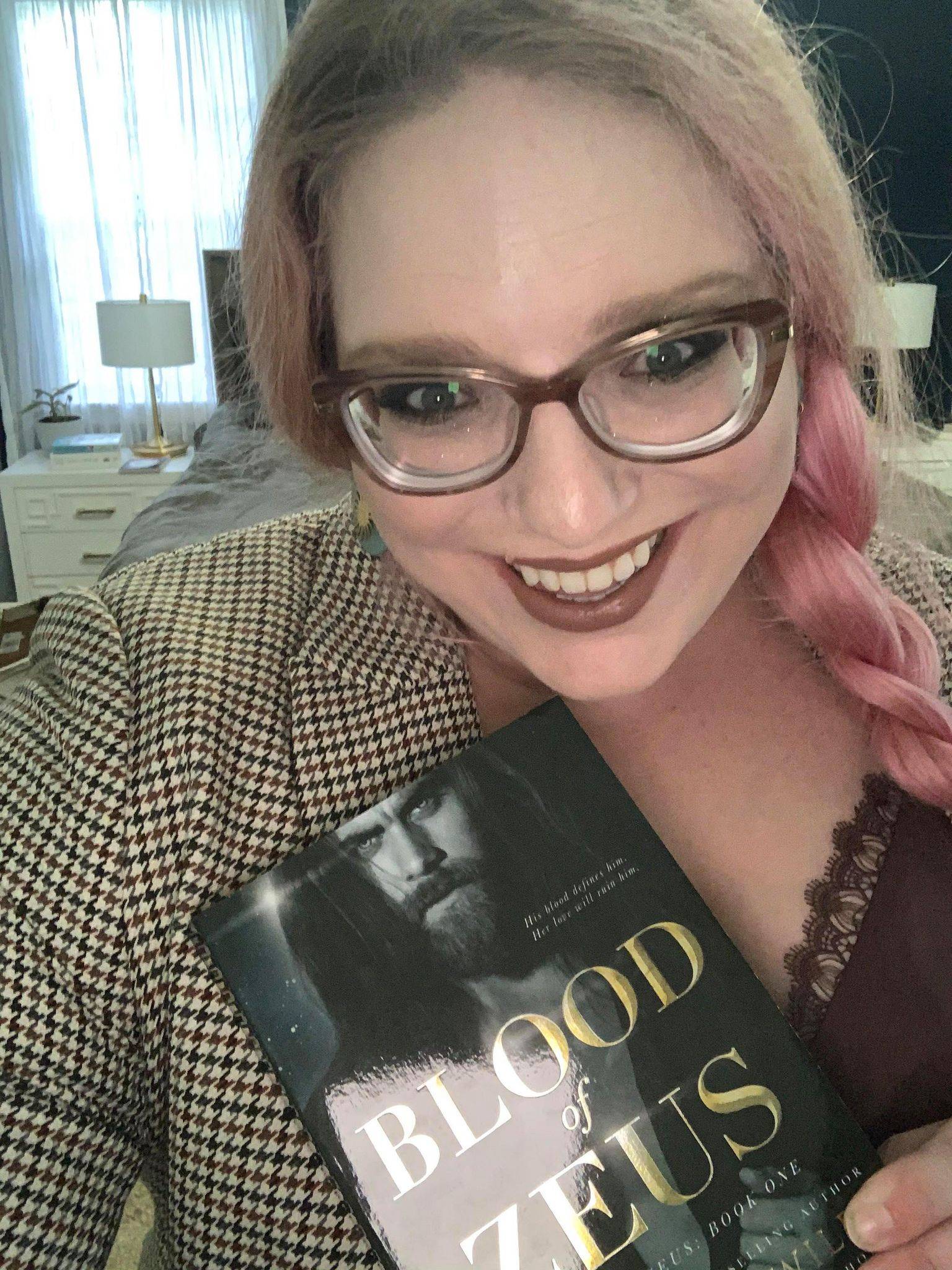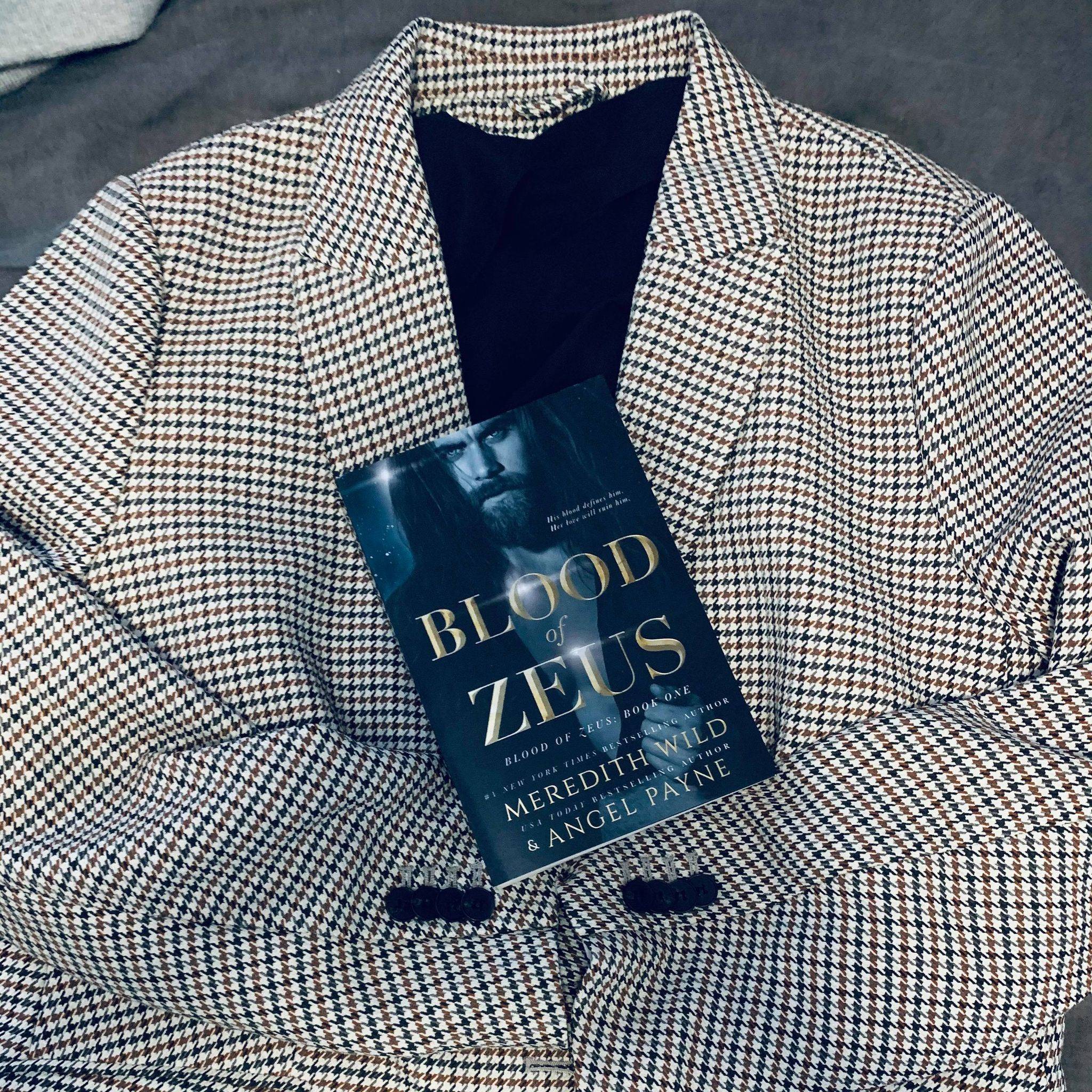 This teacher-student romance set on a college campus with a super fun paranormal twist is sure to make you yearn for the Quad. I paired my most academic blazer, a fall plaid, with some faux leather leggings to hit that badass god meets college professor vibe.
An ancient grudge. A forbidden love.
The only thing worse than being a demon is being a Valari. As an undergraduate at Los Angeles's Alameda University, Kara Valari can sometimes succeed at forgetting she's both. Lost between the pages of the classics and tucked into the shadows of lecture halls, she can dodge the paparazzi's lenses as well as her family's publicized dramas—not to mention their private expectations. She has one more year to feed her true passions. Then she'll be expected to fulfill a much darker destiny.
Cursed with inexplicable strength and god-like stature, literature professor Maximus Kane knows all about darkness. Every day he's reminded of the missteps of his childhood and the devastating consequences they've had on those dearest to him. To atone, Maximus spends his nights alone and his days submerged in the quiet life of academia. His existence has become a study in control, and he's become a master at it—until Kara Valari walks into his toughest course.
Viscerally, Kara's everything he craves. Logically, she's everything he rejects. She's a starlet of privilege. She's also a student. And after one touch, he can't deny that she's awakened something in him that may never go dormant. Nothing about her makes sense, but everything about her feels right. Especially in the deepest strands of his DNA, which are still shadows of mystery to him—a mystery Kara seems determined to uncover.
She's Hollywood royalty. She's forbidden fruit. And he's pretty sure she could be the answer to everything.
All Scot and Bothered by Kerrigan Byrne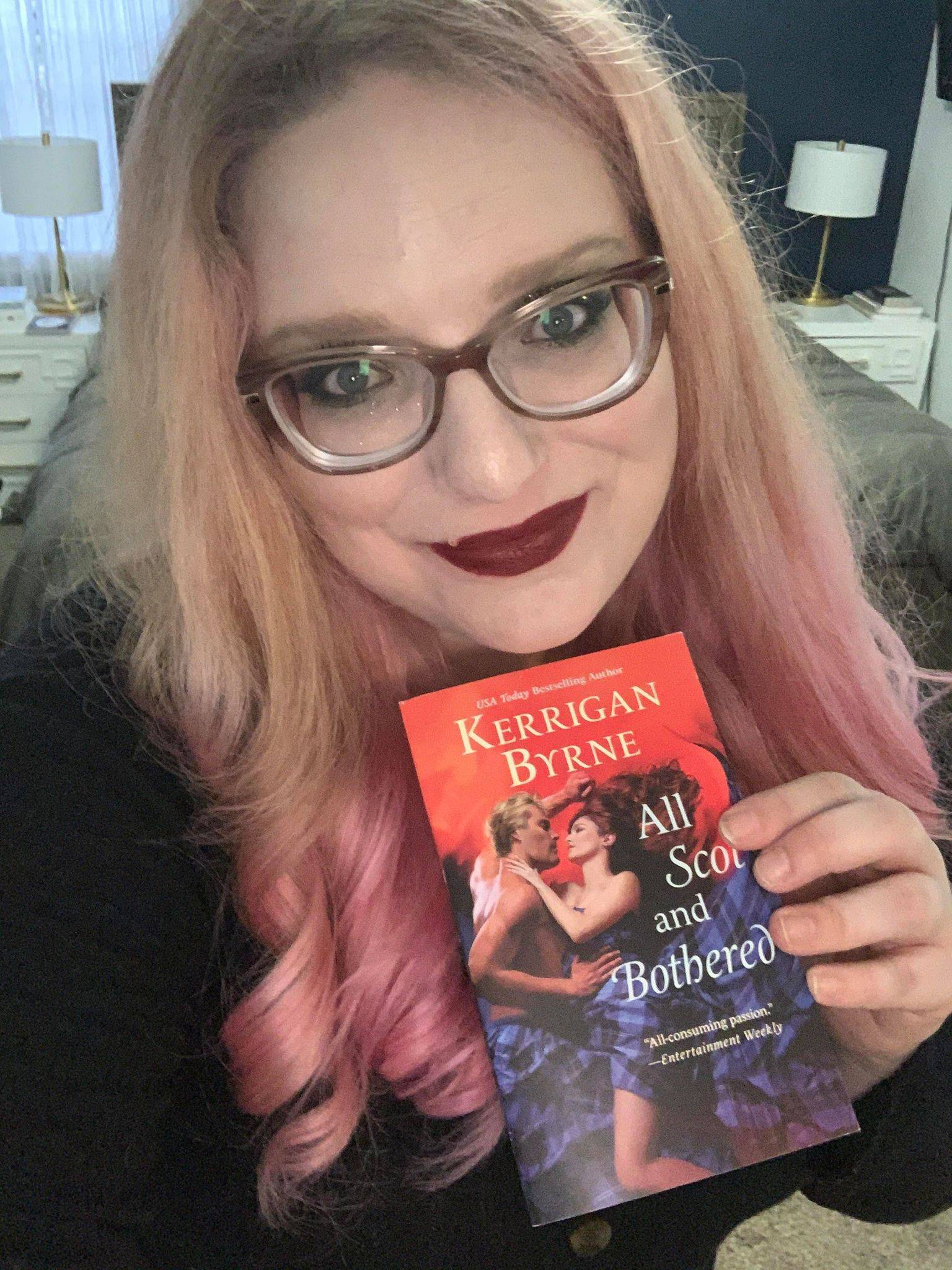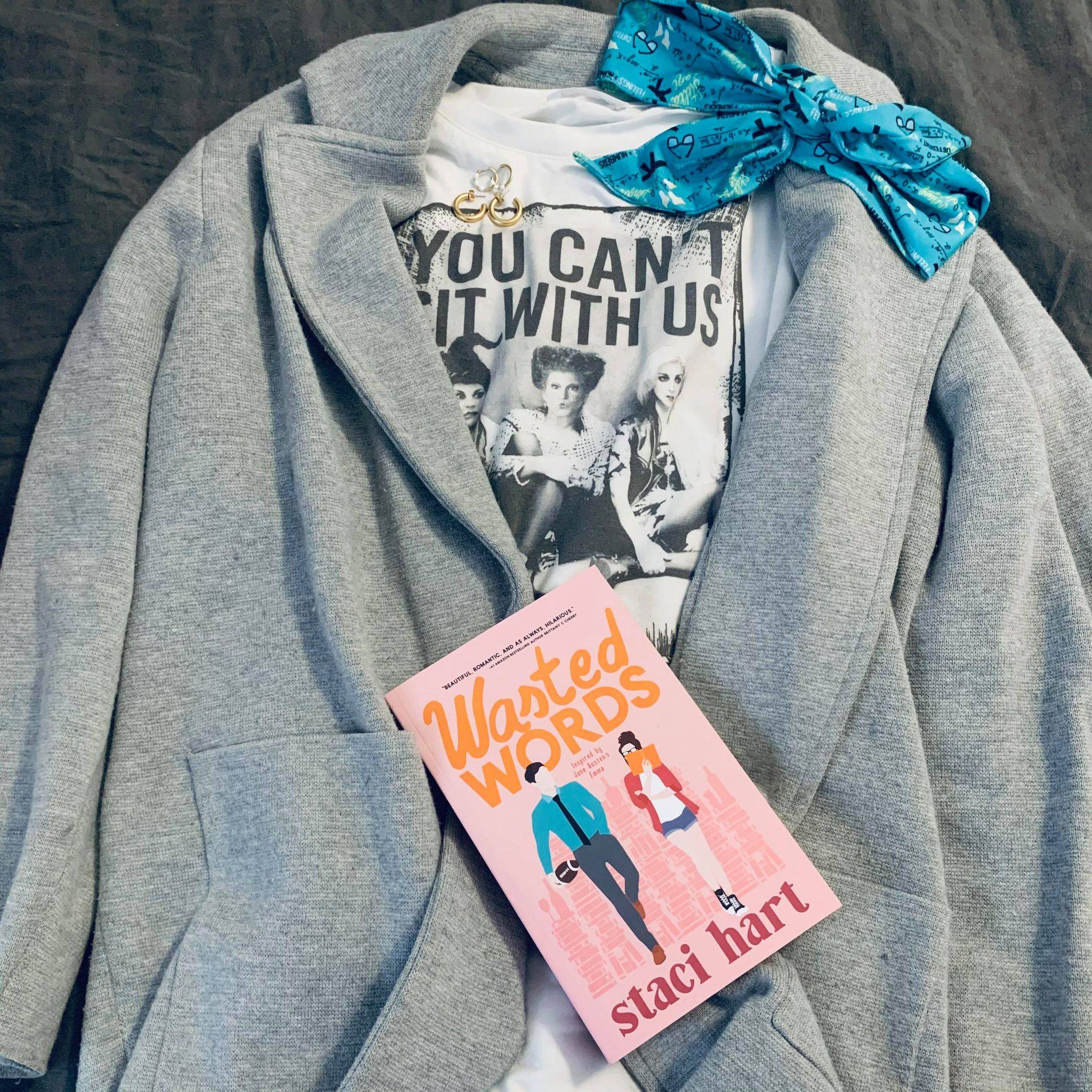 It's getting Scot in here...so take off all your—oops! Wrong Scots. For this book I really wanted an epic matching plaid, but my closet failed me. I went with a matching orange-red lippie and a cozy jeans and sweater vibe. Historical romance was my start to the genre and it is always so cozy to return to!
They are a dangerous duke, a fierce lord, and an infamous earl—dark, bold, brave men who know exactly what they want. And there is only one woman who can bring them to their knees...
He is first and foremost—at everything. A man who's made his own way in the world through ruthless cunning and sheer force of will. A strong and imposing Scot who can turn on the charm but does not suffer fools. His title: Lord Chief Justice of the High Court. His name: Cassius Gerard Ramsay. His mission: To investigate the goings-on at London's most notorious gaming hell, owned and operated by one of the most intriguing and desirable women he's ever met.
IN THIS GAME OF LOVE, THE RULES DO NOT APPLY
Cecelia Teague was an orphan facing a rather dire future—until a secret benefactor from her mother's scandalous past swept into her life. Sent to prestigious boarding school and later to university, Cecelia believed high society was at her fingertips...Then, from out of nowhere, she became the inheritor of a gambling establishment. Now Cecelia must live two lives: one as a proper lady who finds herself undeniably drawn to Lord Ramsay and the other as a savvy gaming hell owner trying to save her business from the very same man. He has no idea she is both women...and Cecelia would like to keep it that way. But what happens when consuming passion and escalating danger threaten to reveal the truth?
Emerald Blaze by Ilona Andrews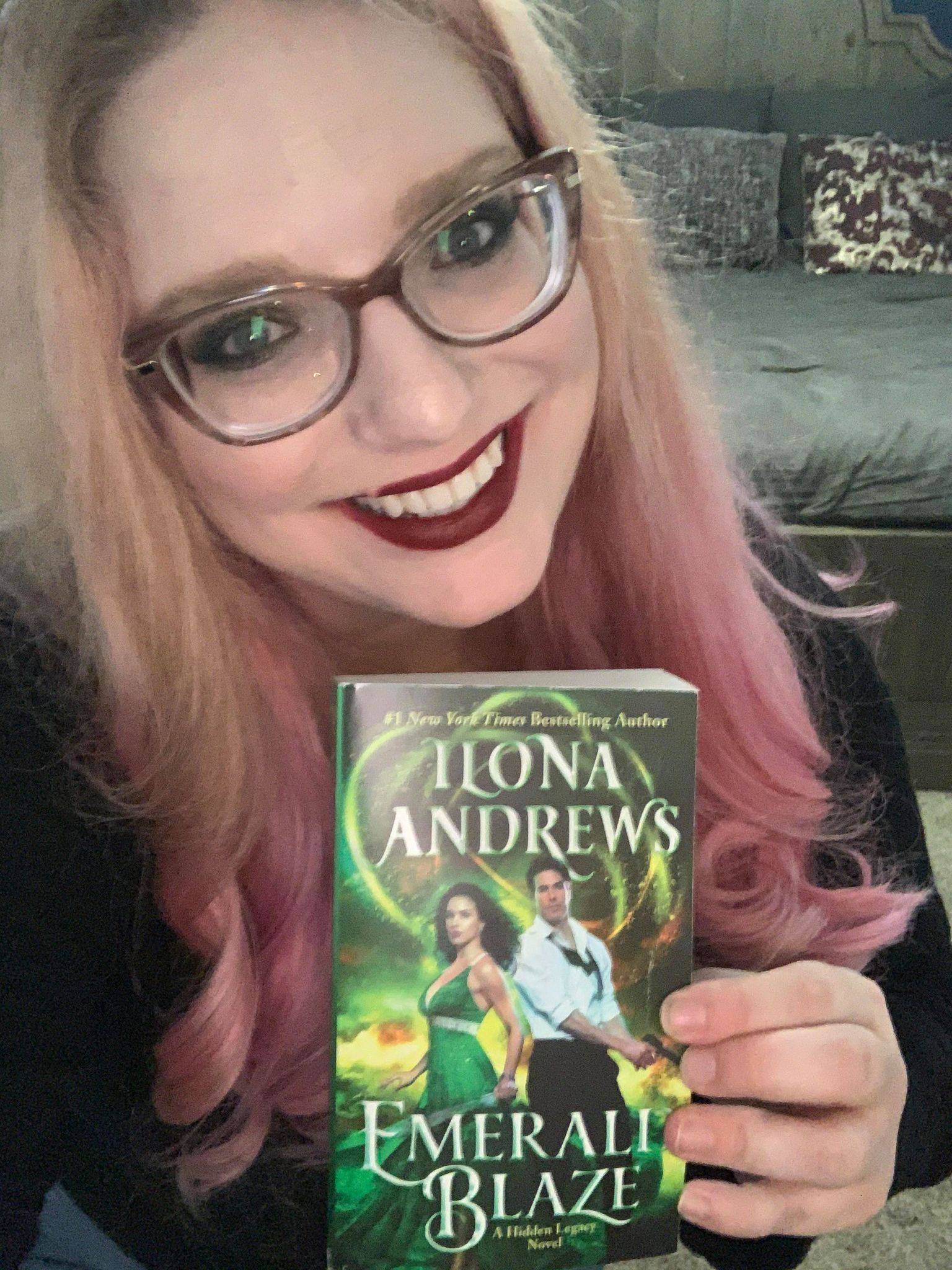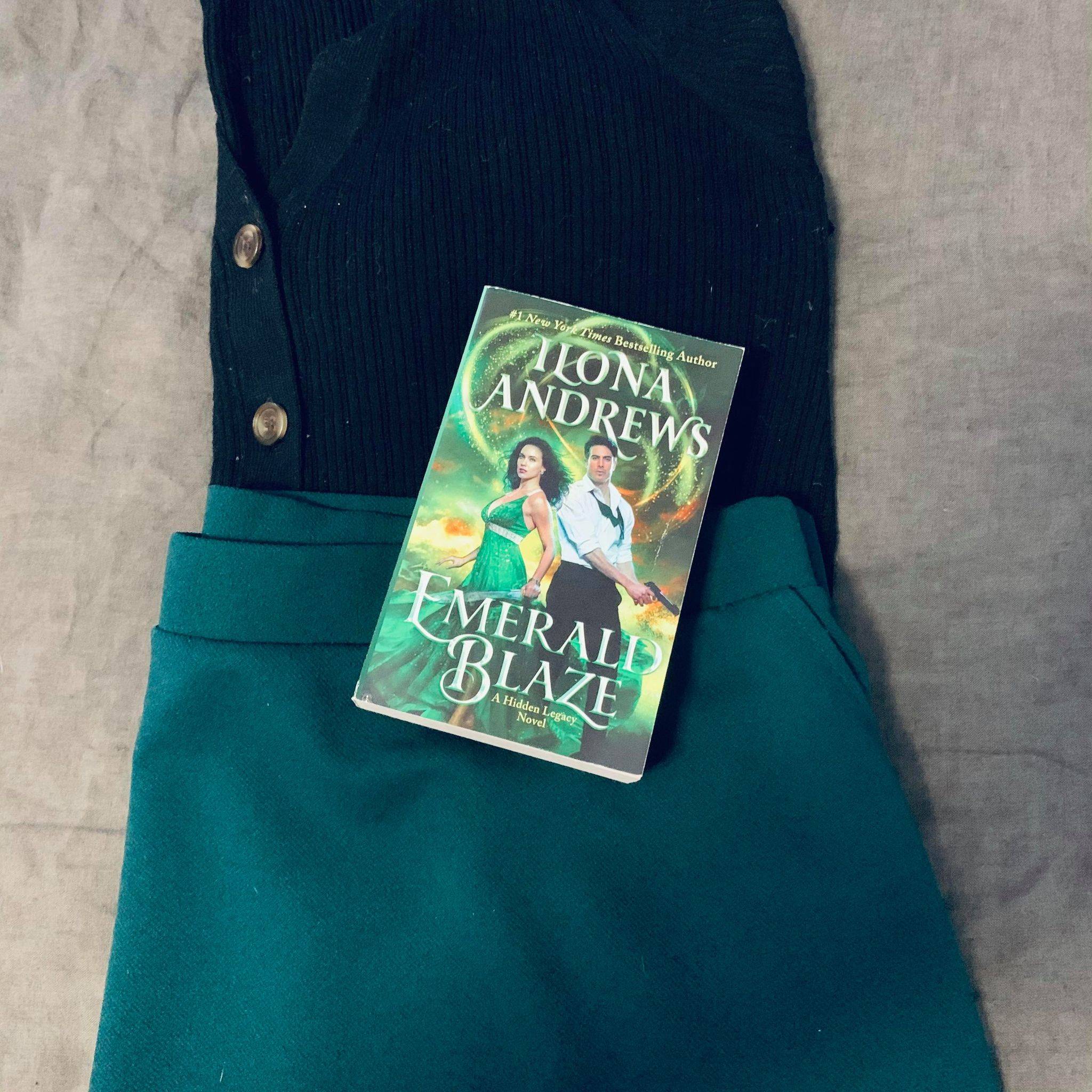 This series is one of my very favorites! You definitely have to read in order, and I have been on the edge of my seat since Sapphire Flame's cliffhanger. I matched this cover with an adorable emerald mini skirt and a black sweater. This outfit is comfy, classic, and a bit dressy. A favorite of mine to wear this autumn for sure!
As Prime magic users, Catalina Baylor and her sisters have extraordinary powers—powers their ruthless grandmother would love to control. Catalina can earn her family some protection working as deputy to the Warden of Texas, overseeing breaches of magic law in the state, but that has risks as well. When House Baylor is under attack and monsters haunt her every step, Catalina is forced to rely on handsome, dangerous Alessandro Sagredo, the Prime who crushed her heart.
The nightmare that Alessandro has fought since childhood has come roaring back to life, but now Catalina is under threat. Not even his lifelong quest for revenge will stop him from keeping her safe, even if every battle could be his last. Because Catalina won't rest until she stops the use of the illicit, power-granting serum that's tearing their world apart.
There are so many amazing BookLooks out there!
How do you share your bookish habits outside of reading?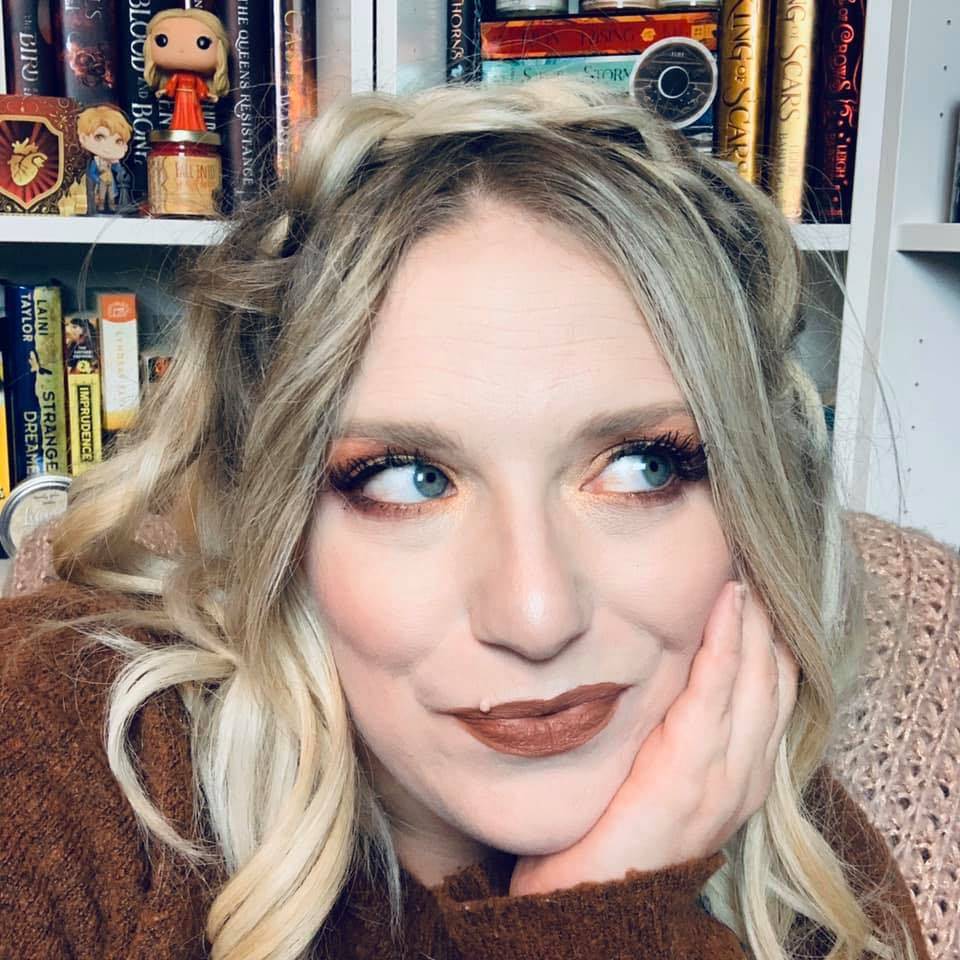 Written By:
Taylor, Social Media Assistant
""I need a queso fountain.""
Published On:

October 23, 2020